Weather English Language 17-02-12
by Elyse Petersen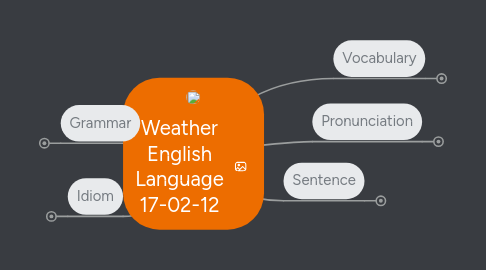 1. Grammar
1.1. Conjunctions
1.1.1. Kinds
1.1.1.1. Coordinating
1.1.1.1.1. and
1.1.1.1.2. but
1.1.1.1.3. or
1.1.1.1.4. yet
1.1.1.1.5. for
1.1.1.1.6. nor
1.1.1.1.7. so
1.1.1.2. Subordinating
1.1.1.2.1. after
1.1.1.2.2. although
1.1.1.2.3. if only
1.1.1.2.4. rather than
1.1.1.2.5. whenever
1.1.1.3. Correlative
1.1.1.3.1. not only - but also
1.1.1.3.2. neither - nor
1.1.1.3.3. whether - or
1.1.1.3.4. not - but
1.1.1.4. Conjunctive Adverbs
1.1.1.4.1. moreover
1.1.1.4.2. however
1.1.1.4.3. consequently
2. Pronunciation
2.1. Syllables
2.1.1. bliz-erd
2.1.2. kloud
2.1.3. drout
2.1.4. fawr-kast
2.1.5. hyoo-mid-i-tee
2.1.6. chil-ee
2.1.7. win-dee
2.1.8. skawr-ching
2.1.9. muhg-ee
3. Vocabulary
3.1. Nouns
3.1.1. Blizzard
3.1.2. Cloud
3.1.3. Drought
3.1.4. Forecast
3.1.5. Humidity
3.2. Adjectives
3.2.1. Chilly
3.2.2. Windy
3.2.3. Scorching
3.2.4. Muggy
4. Idiom
4.1. Weather
4.1.1. I didn't go to work because I've been under the weather.
4.1.2. We cut expenses in order to weather the storm.
5. Sentence
5.1. Although the blizzard passed quickly it was chilly and windy
5.2. The lack of clouds and scorching heat during a drought makes life difficult.
5.3. The forecast shows beautiful weather, however the high humidity makes it muggy and miserable.