Minding mine own business and respecting my Mind before allowing someone to change my mind
by Jonathan Wheeler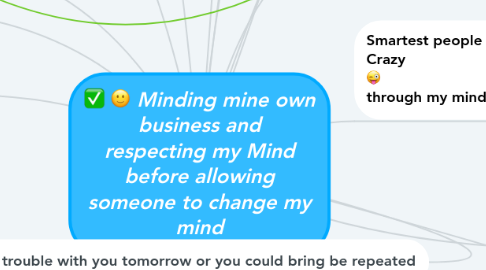 1. I'm just ignoring anything that does not make any sense because icant even think of one good thing that came from y'all noisemakers
1.1. Have a wonderful day and a beautiful night wishing everyone the very best
1.2. ✌️💡🙉🙈🙊
1.2.1. 🖖🏾
1.2.1.1. 🤪
1.3. GO FUCK YOURSELVES. 💁
2. Make a difference in your self everyday don't bring yesterday's trouble with you tomorrow or you could bring be repeated
3. Build and invest into yourself
4. Treat people the way you want to be treated reflect what you get back
5. Your only as good as your tools
6. Stop playing stupid test and you will stop winning stupid results
7. Put me on blast. Good bad or otherwise like me it's or don't .. Pay up 💰
8. I'm not mad I'm disappointed because it's ok to lie to me but just be truthful to yourself if you have issue or know that it could be as my partner I would never go against my partner if I really loved him no matter how much 💰💵💵💵 would not change my decision -
9. It's a blessing or a lesson
10. Don't speak one word to me but I could feel your intentions. ?
10.1. Still not quite sure what to feel but it in between positive and negative
10.1.1. 🏴‍☠️
10.1.2. Never scared bring it !
11. Me
11.1. Your Voice Matters
11.1.1. Keep realistic goal 🥅
11.1.1.1. Stop using the words CANNOT CAN't and Apologizing (Sorry)
11.1.1.1.1. am I physically relaying message
11.1.2. Never give up
11.1.2.1. Working on your own self and bringing the best out of you #selfhealing
11.1.2.2. RISK VS VALUE
11.1.2.2.1. Impossible is not impossible
12. Smartest people where called Crazy 😜 through my mind
12.1. am I physically relaying message
13. What the Fuck ?
13.1. Leading me on to only step in💩
14. Keep ideas 💡to self
14.1. Don't tell it sell it
14.2. 💵🧲💸
14.3. Set a weekly spinning bills
14.3.1. Get Money 💰 now
15. Inspiration
16. If you want it done right call someone else LoL
17. Budget your earnings
18. Mind blowing 🤯
18.1. Believe in yourself if you feel some entente is trying to leave you in the darkness about something you know for a fact.
19. What's that Sound ???
20. I can't pay u no Mind
20.1. I couldn't even afford to pay attention 💭🎶🎵
20.2. I just wanna be my self and I believe I'm not Able to be myself because of knowing people are invading my privacy and I know so I now act up because my partner hides that from me. !!
20.2.1. Everyone has there days so make sure you have yours