WORD FORMATION PROCESS
by kieu Huynh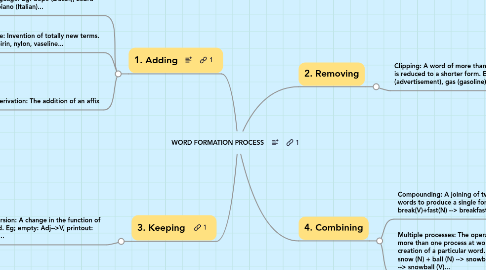 1. 3. Keeping
1.1. Conversion: A change in the function of a word. Eg; empty: Adj-->V, printout: V-->N...
2. 1. Adding
2.1. Borrowing: The taking over of words from other language. Eg: dope (Dutch), zebra (Bantu), piano (Italian)...
2.1.1. Loan-translation/ Calque: A direct translation of the elements of a word into a borrowing language. Eg: boyfriennd (American) --> nan pengyu (Chinese)...
2.2. Coinage: Invention of totally new terms. Eg: aspirin, nylon, vaseline...
2.2.1. Acronyms: New words formed from the initial letters of a set of other words. Eg: ATM: automatic teller machine...
2.3. Derivation: The addition of an affix
2.3.1. Prefixes--> added to the beginning of a word. Eg: un-, in-, mis-, dis-,...
2.3.2. Suffixes--> added to the end of a word. Eg: -less, -ish, -able, -ness,...
2.3.3. Infixes: an affix that is incorporated inside another word. Eg: Hallebloodylujah!
3. 2. Removing
3.1. Clipping: A word of more than syllables is reduced to a shorter form. Eg: ad (advertisement), gas (gasoline)...
3.1.1. Hypocorisms: A longer word is reduced to a single syllable + -y/ie. Eg: bookie (bookmaker), brekky (breakfast)...
3.1.2. Backformation: The creation of a new word by removing an affix from an old word. Eg: automation--> automate, mixture--> mix
4. 4. Combining
4.1. Compounding: A joining of two separate words to produce a single form. Eg: break(V)+fast(N) --> breakfast (N)...
4.1.1. Blending: The combination of two separate forms to produce a single new term. Eg: brunch (breakfast/lunch), Chunnel (Channel/tunnel)...
4.2. Multiple processes: The operation of more than one process at work in the creation of a particular word. Eg: snow (N) + ball (N) --> snowball (N) --> snowball (V)...