AIRCRAFT MANUALS AND PUBLICATIONS
by nathan chetz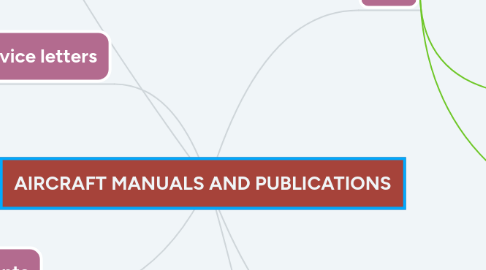 1. Illustrated Parts Catalogue
1.1. Part Break-down Manual
1.2. Used with M.M.
1.3. Contains
1.3.1. Part #
1.3.2. Illustration of parts, systems and components.
2. Types
3. Structural Repair Manual
3.1. Perform repair on AC structure
3.2. Contains
3.2.1. Diagrams of approved parts
3.2.2. Guideline to choose the type of repair
3.2.3. Repair instructions and guidlines
4. Maintenance manual
4.1. Contains
4.1.1. Design and specs
4.1.2. Procedures on how to perform tasks on AC systems, components, etc.
4.1.3. Detailed descriptions on AC systems, components and how they work.
5. Wiring diagrams
5.1. Detailed diagram of every electrical circuit
6. Component Overhaul Manual
6.1. Contains
6.1.1. Description of components and operation
6.1.2. Procedure for disassembling, servicing/overhauling of component
6.1.3. Detailed info. and maintenance instruction for specific components
7. Service Bulletin (SB)
7.1. Sent from manufacturer to operator delivering urgent info.
7.2. Contains
7.2.1. Service bulletin #
7.2.2. Revision #
7.2.3. AC or engine #
7.2.4. Subject and explanation
7.2.5. Description of work
7.2.6. Time frame
7.2.7. Parts to be used
7.2.8. Tools required
7.2.9. Man hours
7.2.10. Weight and balance changes
8. Service letters
8.1. Contains
8.1.1. New techniques, new products and info. related to AC/engine
8.1.2. Info. on manufacturing company
9. Amendments
9.1. Sent by manufacturer
9.1.1. Reviewed regularly
9.2. Accompanied with a LETTER OF TRANSMITTAL
9.2.1. Certifies that its approved by NAA
9.3. Identification
9.3.1. Change in revision and issue #
9.3.2. Change in issue date
9.3.3. SOLID BLACK VERTICAL LINE drawn in the margin of change
10. ATA 100 SPECIFICATION
10.1. Standard format for al manuals
10.1.1. Introduced by IATA
10.2. Consists of
10.2.1. Chapter Section Subject Page
11. Aircraft Operators Manuals