Introductory Mind Map
by Anthony DeNuto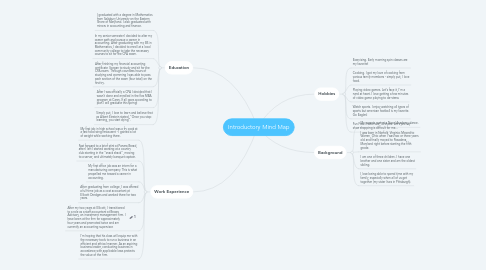 1. Hobbies
1.1. Exercising. Early morning spin classes are my favorite!
1.2. Cooking. I got my love of cooking from various family members - simply put, I love food.
1.3. Playing video games. Let's face it, I'm a nerd at heart. I love getting a few minutes of video game playing to de-stress
1.4. Watch sports. I enjoy watching all types of sports but american football is my favorite. Go Eagles!
1.5. Fun Fact: I wear size 14 shoes. Let's just say shoe shopping is difficult for me...
2. Background
2.1. My parents met at a Naval Academy dance.
2.2. I was born in Norfolk, Virginia. Moved to Warren, Ohio when I was two or three years old and finally moved to Pasadena, Maryland right before starting the fifth grade.
2.3. I am one of three children. I have one brother and one sister and am the oldest sibling.
2.4. I love being able to spend time with my family, especially when all of us get together (my sister lives in Pittsburgh).
3. Education
3.1. I graduated with a degree in Mathematics from Salisbury University on the Eastern Shore of Maryland. I also graduated with minors in accounting and finance.
3.2. In my senior semester I decided to alter my career path and pursue a career in accounting. After graduating with my BS in Mathematics, I decided to enroll at a local community college to take the necessary courses to sit for the CPA exam.
3.3. After finishing my financial accounting certificate I began to study and sit for the CPA exam. Through countless hours of studying and cramming I was able to pass each section of the exam (four total) on the first try.
3.4. After I was officially a CPA I decided that I wasn't done and enrolled in the flex MBA program at Carey. If all goes according to plan I will graduate this spring!
3.5. Simply put, I love to learn and believe that as Albert Einstein stated, "Once you stop learning, you start dying".
4. Work Experience
4.1. My first job in high school was a fry cook at a fast food wing restaurant - I gained a lot of weight while working there.
4.2. Fast forward to a brief stint at Panera Bread, after I left I started working at a country club starting in the "snack shack", moving to a server, and ultimately banquet captain.
4.3. My first office job was an intern for a manufacturing company. This is what propelled me toward a career in accounting.
4.4. After graduating from college, I was offered a full-time job as a cost accountant at Ellicott Dredges and worked there for two years.
4.5. After my two years at Ellicott, I transitioned to a role as a staff accountant at Brown Advisory, an investment management firm. I have been at the firm for approximately four years and promoted twice and am currently an accounting supervisor.
4.6. I'm hoping that his class will equip me with the necessary tools to run a business in an efficient and ethical manner. As an aspiring business leader, conducting business in accordance with applicable laws protects the value of the firm.