What have I learned from my academic experiences in Instructional Leadership at Chaminade University?
by Lydia Villoria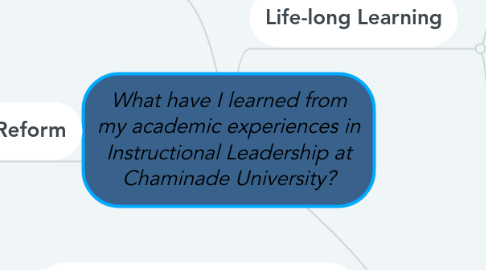 1. Life-long Learning
1.1. Diverse Learners
1.1.1. Understanding different learning styles
1.1.2. Utilizing different resources to engage all students
1.1.3. Being a culturally competent educator
1.1.4. Multicultural education
1.1.4.1. Understanding that culture plays an important role in a student's education, the way he/she thinks and responds
1.2. Developing a teaching philosophy
1.2.1. Understanding the needs of students
1.2.1.1. Everyone learns differently. It is my job as an educator to ensure that all students are given the opportunity for learning.
2. Educational Research & Design
2.1. Identifying a research topic
2.2. Formulating research questions
2.3. Peer-reviewed resources and research
2.4. Ties into Culminating Experience
3. Peace, Justice & Ed Reform
3.1. Critical thinking
3.2. Implementing peace in a diverse society
3.3. Taking into account diversity of students
3.4. Ties into Diverse Learners & Multicultural Education
4. Hawaiian Culture & Language
4.1. Understanding the power of knowledge
4.1.1. Creating a sense of community
4.1.2. Empowering students
4.1.2.1. Ties into life-long learning, multicultural education, and diverse learners
4.1.3. Working with intention/purpose