Digital Tools That Can Transform Education
by Steve Teter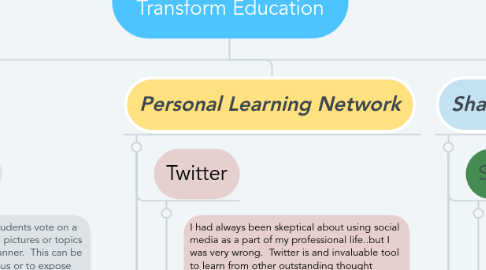 1. Collaboration
1.1. Dotstorming
1.1.1. A great way to have students vote on a topic. You can upload pictures or topics in a quick and easy manner. This can be done to get a consensus or to expose varying points of view in a class. You could also use this for voting for the best example or to take an informal quiz.
1.1.2. https://dotstorming.com/
1.2. Padlet
1.2.1. Padlet allows you to have students comment, add or like content in real time. It is a great format to use with pictures (not just links) and opinion questions. The students can add comments in real time, from a computer or their phone. Its very interactive and looks great.
1.2.2. https://padlet.com
1.3. Twiddla
1.3.1. Twiddla is an outstanding way to have students collaborate and express their points of view. It acts as an"white board" that can be added to by students in real time. The coolest thing is that you can upload a picture, graph, reading or leave it as a plain white board and have students write directly on it. This could be used in a social studies class with the use of a political cartoon where the kids can mark it up to find meeting.
1.3.2. https://www.twiddla.com/
1.4. One Note
1.4.1. One Note is a great tool for students to organize and share materials from a class. I have used One Note to post all of my class notes and assignments and as a way for students to submit work. It basically creates a hub for an entire classroom. Students who are absent from class can find and make up work easily. I also use the digital notebooks that students can create.
1.4.1.1. https://www.onenote.com
2. Personal Learning Network
2.1. Twitter
2.1.1. I had always been skeptical about using social media as a part of my professional life..but I was very wrong. Twitter is and invaluable tool to learn from other outstanding thought leaders in the world of education. I struggled for places to find interesting content or lesson plans but I find Twitter to be a treasure of information and inspiration. Twitter also allows you to effortlessly stay on top of recent trends in education. I have also found that two way engagement is the most useful way to utilize the tool. I have been quick to post ideas and lesson plans that I think will be useful to other people. I am a Twitter-convert for sure.
2.1.1.1. https://twitter.com
2.2. edWeb.net
2.2.1. edWeb.net is a seemingly neverending resource for teachers who are looking for innovative and up to date information in the world of edcation. I just recently read and enlightening article about how working with students with ADHD. I was able to use this in my classroom and at home wiht my son. (Building Engagement in Students with Attention Issues) There are great articles as well as outstanding webinars that are very useful and insightful
2.2.1.1. https://home.edweb.net/
2.3. The Teaching Channel
2.3.1. I use The Teaching Channel as a resource for my professional development . It has outstanding, well produced videos on all sorts of topics for both content and pedagogy. You can search by grade, topic or subject from its easy to navigate website. I also find the teacher community (1,195,654 total teachers) to be useful and engaging. There is also an "Ask Anything" message board that allows for feedback and collaboration.
2.3.1.1. https://www.teachingchannel.org/home
2.4. LinkedIn
2.4.1. Even if you are not looking for a job, LinkedIn is a great way to build your PLN. 94,974 professionals are currently in the Teacher Training and Education group that is a great resource to find information and other teacher's best practices. I also find this site very helpful when looking at current policy issues both on a national and local level. Its important to me to keep up with that landscape in order to see any changes coming down the pike.
2.4.1.1. https://www.linkedin.com
3. Sharing Content
3.1. Symballoo
3.1.1. Out of all of the digital tools that I found, I believe Symbaloo is the most useful app that I experienced. Symbaloo is a place where you can store all of the content that you want your students to access. Its a user friendly platform that allows you to put videos, documents, pictures etc. in one location so that they are available from anywhere. Each block becomes something that students explore. I have begun to structure an entire unit plan on a Symbaloo board and am very excited about the possibilities. Students won't have to constantly ask what sites to visit and need reminders on how to get there. Also, links to their google docs folder will make it easier than ever to submit assessments and assignments online. Its a great tool that you should definitely explore.
3.1.1.1. https://www.symbaloo.com/home/mix/13eP2D551J
3.2. Thinglink
3.2.1. Thinklink makes pictures and videos editable and able to be annotated in a very user friendly and professional looking way. Its a great way to mark up and work with multi-media productions and you can add side bar instructions too include further detail quickly and easily. Also, I really like the way that you can include voice overs that can be descriptions of what they are seeing or directions about what you want them to do. Its a very intuitive process that makes it easy to import what every image or video you want to include. I can see how the video feature could be used to create a virtual field trip and expose students to something that may not have been available previously.
3.2.1.1. https://www.thinglink.com/
3.3. Piktochart
3.3.1. Piktochart is another gem of a find for me and I have quickly began to use in my classroom. It allows you to make very professional presentations, inforgraphics and handouts that can be used either in print or digital versions. There are a ton of free templates to use for just about any format you may need. I think that by taking the time to make a handout more interactive and interesting, you have more buy-in from students. I add graphics and links that sort of bring the document to life and make it harder for kids to just ignore. I have started to use it for presenting the expectations and requirements for projects that i introduce in class. I can include resources, links and examples that students can reference when they need to. It seems like a big success and something that I will continue to use.
3.3.1.1. https://piktochart.com/
3.4. Voice Thread
3.4.1. Voice Thread is a way to take people out of their comfort zone and in front of the camera. You can create video threads where people can discuss and build conversations that allow students interact and share ideas. Also, its a good way for educators to break down the walls of the class room and reach the students in an interactive way. The program was easy to use and was effective in creating conversations that can be used for just about any topic.
3.4.1.1. https://voicethread.com/