Health and Illness: How do you feel ?
by INGRID MORATO CARRIZO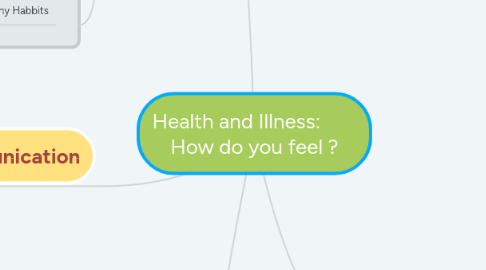 1. Cognition
1.1. Remembering
1.1.1. Saying and touching Body parts & pointing organs
1.2. Understanding
1.2.1. Matching organs & functions/ Matching body part and disease / Describing pain & sensation
1.3. Applying
1.3.1. Relate pain to specialized doctor or professional to help
1.4. Analyzing
1.4.1. comparing other colleagues advice to same pain and improve yours
1.4.2. Relating your doctor advice to other countries home remedies or advice
1.5. Evaluating & Creating
1.5.1. Making a human body on plasticine with organs/
1.5.2. Generate a dialogue between a patient and her/his doctor or therapist
2. Culture
2.1. Home remedies among class students (different nationalities)
2.2. Prevention habbits
2.2.1. annual checkings/ vaccination/
2.3. What do we do in BCN when feeling ill?
2.3.1. CAP/ Emergencies
3. Content
3.1. Body Parts & Organs
3.2. Feeling & Emotions, ADJs ( acute, sharp, intermitent, long, short, ...)
3.3. Types of doctors (dentist, psychologist, opticien...) & therapists
3.4. Remedies & Medicines
3.5. Healthy Habbits
4. Communication
4.1. Language OF
4.1.1. Parts of Body & Organs/ Remedies/Feelings & Emotions/ Types of Doctors/
4.2. Language FOR
4.2.1. Asking about feeling and sensations/ Describing Feelings and Aches/ Giving Advice/
4.3. Language THROUGH
4.3.1. Language for class management/ Language for spontaneous interacting among students / Language for working dialogues in pairs of students