Addressing Inadvertent Violation of Confidentiality Erin Wheeler
by Erin Wheeler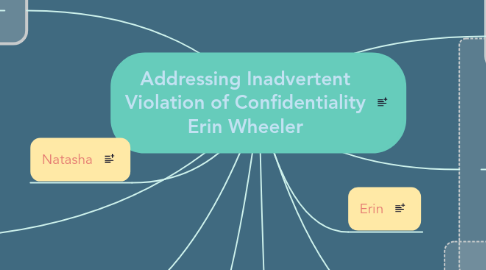 1. Confront Natasha about conversation
1.1. Negative: Natasha could get mad and remove her from the practice
1.2. Positive: Natasha could realize what she did was wrong and thank Erin for guiding her
2. Leave the situation alone and forget it ever happened
2.1. Positive: Everything goes as planned and Erin finishes her fieldwork and everyone moves on.
2.2. Negative: Natasha may get in trouble which could then lead to Erin also getting in trouble for being aware of the situation.
3. Make Natasha's supervisor aware of situation
3.1. Negative: Natasha looses her job.
3.2. Positive: Natasha and the supervisor talk and Natasha recognizes her mistake and thanks Erin.
4. Keep information to yourself but switch fieldwork
4.1. Positive: Completely remove oneself from situation.
4.2. Negative: Supervisor finds out Erin is aware of this information
5. Natasha
6. Erin
7. Core Values:
7.1. Truth
7.2. Prudence
8. Ethical Principles
8.1. Beneficence 1D
8.2. Autonomy 3H
9. Stakeholders
9.1. Natasha
9.2. Erin
9.3. Erin's parents
9.4. Natasha's practice
9.5. Natasha's client
10. Chosen Outcome