F03 Investigation: How a Bill Becomes a Law
by Annika Rodgers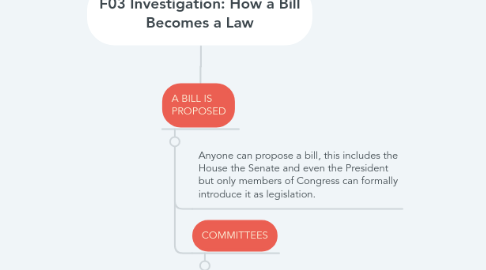 1. A BILL IS PROPOSED
1.1. Anyone can propose a bill, this includes the House the Senate and even the President but only members of Congress can formally introduce it as legislation.
1.2. COMMITTEES
1.2.1. A committee will be delegated to examine the bill and map out the following steps if proven to be beneficial.
1.2.2. If the committee does not see a future in the bill, it is rejected and considered dead.
1.2.3. SUBCOMMITTEES
1.2.3.1. This is where experts, supporters, and other branch members gather to form a type of hearing to further discuss the benefits and cons of the bill that is being proposed.
1.2.3.2. CHANGES
1.2.3.2.1. If the bill makes it through the hearing, it is often needed to go through an editorial phase to fit the compromises that were made during the hearing.
1.2.3.2.2. Once this is completed, it is sent for voting.