Knowledge Management dillema at TPA
by known 123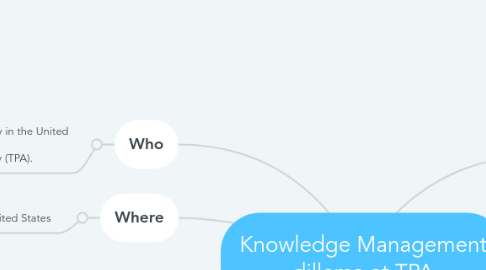 1. Who
1.1. a state governmental agency in the United States: Technology Project Authority (TPA).
2. What
2.1. Many organizations underestimate the challenges associated with the usage of a knowledge management system (KMS).
3. When
3.1. The case targets the three main phases between 2004 and 2008, of the TPA's knowledge management strategy
4. Where
4.1. United States
5. How
5.1. Maintain the characteristics of an organizational environment conducive to knowledge management actions, to evaluate the strategic alignment of the KMS, and propose a tailored process of analysis and reengineering for an integrated system like the KMS needed at TPA.
6. Why
6.1. Under pressure to boost its business processes to sustain its expertise in IT project management, two KMS were executed by TPA during the interval covered in the case. Ultimately, the second KMS was not used as intended.