Key developments in surveying technology over the last 20 years and their impact
by fraser smith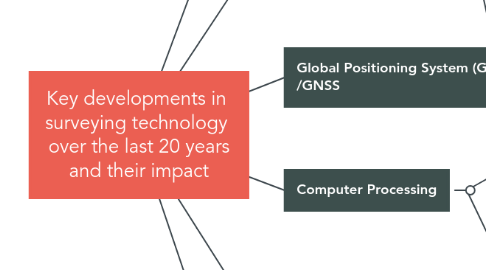 1. Drones
1.1. The use of drones and related technology is becoming commonplace among the surveying and mapping professions.
1.2. Drones allow the surveyor to become more efficient saving time and money.
1.3. Surveying large scale agricultural areas, individual properties or hard to locate areas.
1.4. Reducing health and safety risks
2. Surveying Equipment
2.1. Total station: Is a lightweight, compact and fully integrated electronic instrument combining the capability of an EDM and an angular measuring instrument such as a theodolite
2.2. Laser Scanner: gathers data about an object which can be used to create a 3D model. This allows the surveyor fewer site visits and can capture historical buildings in high resolution.
2.3. Bluetooth: The incorporation of bluetooth was a big impact. Before instruments were dependent on the length of the connecting cable. This allows the surveyor to fully concentrate on the job.
3. Electronic Distance Measurement (EDM) Instruments
3.1. Direct measurement of distances and their directions can be obtained by using electronic instruments that rely on propagation, reflection and reception of either light waves or radio waves.
4. Global Positioning System (GPS) /GNSS
4.1. GPS is a highly accurate navigation system using signals from satellites to determine a location on the Earth's surface, irrespective of weather conditions.
4.1.1. GPS provides a latitude and longitude position directly without the need to measure angles and distances between points.
5. Computer Processing
5.1. BIM
5.1.1. BIM technology allows designers to easily collaborate during the decision making process of a building process. Meaning for faster delivery times, lower costs and better visualisation
5.2. GIS
5.2.1. Computer system for capturing, storing, and displaying data. GIS is fundamentally used in all map making,
6. Overall, I would say Computer Processing has had the biggest impact to the surveying sector. The way in we can capture, store and display vast data is a great asset, allowing for faster delivery times, lower costs and better visualisation.