LANGUAGE CHANGE
by Hanii Hani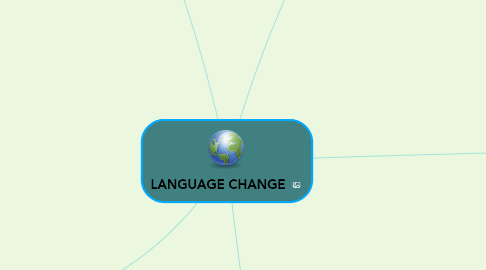 1. VARIATION AND CHANGE
1.1. 3 MAJOR WAYS OF LANGUAGE VARIETIES
1.1.1. Physical space / regional variety
1.1.2. Overtime / language change
1.1.3. Social variation
1.2. POST - VOCALIC [r]
1.2.1. In England
1.2.1.1. Its Spread
1.2.1.1.1. The loss of post vocalic [r] is still in progress in Standrad English
1.2.1.2. Its Status
1.2.1.2.1. It is regarded as rural and uneducated
1.2.2. In America
1.2.2.1. Its Spread
1.2.2.1.1. In 1960, post-vocalic [r] was spreading and increasing in New York
1.2.2.2. Its Status
1.2.2.2.1. It was considered to be prestigious
1.3. KOINES AND KOINEISATION
1.3.1. Meaning
1.3.1.1. Koineisation
1.3.1.1.1. The process by which a new variety of a language emerges from the mixing, leveling, and simplifying of different dialects
1.3.1.2. Koines
1.3.1.2.1. The result of koineisation
1.4. THE SPREAD OF VERNACULAR
1.4.1. What motivates it?
1.4.1.1. Society; considered have prestige and cool based on a social identify
1.4.1.2. Easier to pronunce
1.4.1.3. Expression of solidarity
2. HOW DO CHANGE SPREAD ?
2.1. From group to group
2.2. From style to style
2.3. From word to word
3. REASONS FOR LANGUAGE CHANGE
3.1. SOCIAL STATUS
3.1.1. People of higher social status in the community introduce changes from other communities which are considered prestigious.
3.1.2. Example : there are upper-class, middle-class, and lower-class in London
3.2. GENDER
3.2.1. Differences in women's and men's speech are a source of variation which can result in linguistic change
3.2.1.1. Women tend to be associated with with changes towards both prestige and vernacular norm
3.2.1.2. Men more often introduce vernacular change
3.3. INTERACTION
3.3.1. It is crucial in providing the channels for linguistic change (social networks).
3.4. MEDIA
4. HOW DO WE STUDY LANGUAGE CHANGE
4.1. Apparent-Time Studies of Language Change
4.1.1. Comparing the speech of people of different age
4.1.2. Looking at the frequency of the increase and decrease of a form by age group
4.1.3. For example, younger people use more in new form of language
4.2. Language Change in Real Time
4.2.1. Observing the changes that occur over a period
4.2.2. Know as a real time studies
4.2.3. A very reliable method
4.2.4. The social factors affecting the language use
5. TYPES OF LANGUAGE CHANGE
5.1. LEXICAL CHANGE
5.1.1. Borrowing
5.1.1.1. Example : racoon, kangoroo, tsunami, etc
5.1.2. Derivation
5.1.2.1. Using affixes to create new words
5.1.2.2. Example : warmth, length, depth, wisdom, freedom, etc
5.1.3. Compunding
5.1.3.1. Combining two or more words to form new words
5.1.3.2. Example : blackboard, girlfriend, gingerbread, shopkeeper, etc
5.1.4. Blending
5.1.4.1. Pieces of existing words are combined to form new words
5.1.4.2. Example : smog, brunch, motel, etc
5.1.5. Acronyms
5.1.5.1. The reduction of long phrases to a few letters
5.1.5.2. Example : UNESCO, NATO, BBC, etc
5.1.6. Clipping
5.1.6.1. Forming a word by extracting an arbitrary portion of a word of an identical meaning
5.1.6.2. Example : phone (telephone), prof (proffesor), flu (influenza), etc
5.2. SEMANTIC CHANGE
5.2.1. Broadening
5.2.1.1. Words acquire more meanings beside the original one
5.2.1.2. Example : dog, holiday, picture, mouse, virus, etc
5.2.2. Narrowing
5.2.2.1. Limiting the semantic scope that words used to have
5.2.2.2. Example : meat, deer, girl, etc
5.2.3. Shift of Meaning
5.3. SOUND CHANGE / PRONUNCIATION
5.3.1. Loss of Phonemes
5.3.2. Addition of Phonemes
5.3.3. Metathesis
5.4. SYNTACTIC CHANGE
5.4.1. Word Order
5.4.2. Reanalysis
5.4.3. Grammaticalization