A mind map for Behaviorism learning theories
by Yasmeen Badr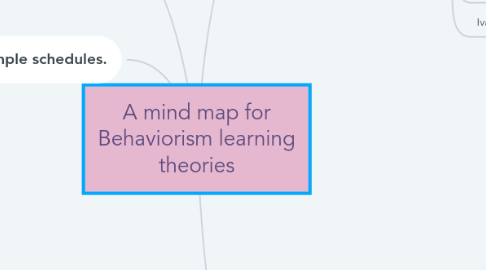 1. Intermittent schedules
1.1. 1- Ratio schedules ( fixed Ratio, variable Ratio).
1.2. 2- interval schedules ( fixed interval, variable interval ).
2. Classical conditioning
2.1. There is a neutral stimulus and un conditioning stimulus together leads to conditional response.
2.2. A conditioned stimulus (cs)associated with an un conditioned stimulus (us) in order to produce a conditioned response ( CR).
2.3. US ______UR
2.4. CS _________CR
2.5. Ivan Pavlov research who established the theory of classical conditioning.
3. Operant conditioning
3.1. Thorndike's puzzle -box experiment.
3.2. Thorndike,who established the low of effect.
3.3. Skinner's most famous research studied the simple reinforcement and punishment.
4. Simple schedules.
4.1. Compound schedules.