Encourage moving abroad experience for students based on artificial intelligence Question: Could the creation of "culture" chat bots help to overcome cultural issues when abroad and reassure the students?
by laura S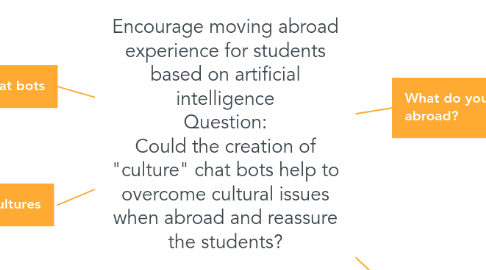 1. What is AI?
1.1. Definition : the study of how to produce machines that have some of the qualities that the human mind has, such as the ability to understand language, recognize pictures, solve problems, and learn
1.2. Applicable domaines
1.2.1. Natural Language Processing
1.2.2. Neural Networks
1.2.3. Fuzzy Logic
1.2.4. Robotics
1.2.5. Expert systems
2. Apps when you're abroad
2.1. Meetup
2.2. Tandem
2.3. citysolcializer
3. What do you need when going abroad?
3.1. Plane tickets
3.1.1. Flights comparaisons
3.1.2. Google Flights
3.1.3. Hooper
3.2. Accomodations
3.2.1. Intelligent Hotels
3.3. Visa
3.3.1. online appointments
3.3.2. E-Visa
4. Chat bots
4.1. Saving time
4.2. Saving money
4.3. Immediacy
5. Safety when you are abroad?
5.1. Sitata Travel Safe
5.2. bSafe
5.3. CloseCircle
6. Readyness of students to study abroad depends on :
6.1. Age
6.2. Gender
6.2.1. Females are more likely to go
6.3. Advancement in the program
6.4. Previous experience abroad (holidays)
6.4.1. Less apprehension
6.4.2. Already a knowledge on the fact that there are different cultures
7. Understanding cultures
7.1. Cultural Dimensions
7.2. Information on governmental websites like "Information culturelles" for Canada
8. Importance of an abroad experience
8.1. Go international: How studying abroad can change your life | Alexander Au | TEDxHumboldtMexicoCity
8.2. Why study abroad | Marina Meijer | TEDxDelftSalon