Healthcare Information Technologies
by Katy Acree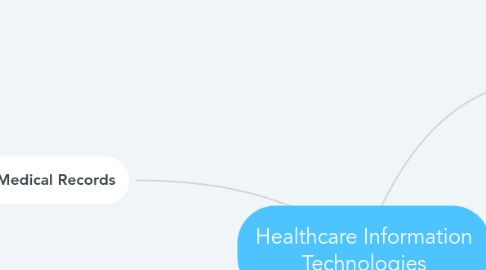 1. Disease Registeries
1.1. Collection of patient data focused on a specific disease or condition. Allows providers to search for beneficial treatments as well as monitoring care management.
2. E-Prescribing
2.1. Allows providers to clear, legible prescriptions to pharmacies - contributes to overall patient safety and quality of care
3. Electronic Medical Records
3.1. Digital version of a paper chart, includes general patient information as well as medical history and treatment plans.
4. Provider Order Entry
4.1. Allows for electronic entry and communication of medical orders. Increases patient safety and quality of care.
5. Clinical Decision Support
5.1. Allows providers as well as patients detailed information to ensure appropriate clinical decisions are made regarding treatment and health management.
6. Consumer Healthcare Applications
6.1. Allows patient access to their medical information as well as can increase communication abilities with providers. Often allows for ease in scheduling appointments and check in process.
7. Telehealth
7.1. Allows remote health management and/or treatment. Allows for patient convenience and can aid in under served communities.
8. Medical Billing
8.1. Rather than having to submit a paper claim to a payer, billing electronically allows for fewer errors and timely issues. Also allows for electronic billing of patient which is more cost efficient.