THE STUDY OF LANGUAGE FUNCTIONS
by MaBel Alvarez M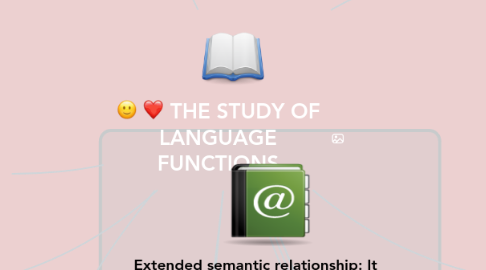 1. SEMANTICITY
2. DISPLACEMENT
3. REDUNDANCY
4. PRODUCTIVITY
5. SOCIAL INTENTIONS: the way in which the child relates his world to the environment in which he lives, thus creating structured and more complex ideas
6. Semantic relationship :The child as an agent in relationship to his or her own environment.
7. PREOPERATIONAL COGNITION : It is how the child interacts and develops in society through language and expressing their opinions
8. Extended semantic relationship: It is based on a clearer and more specific communication of what the child is talking about
9. EXPANDED LANGUAGE FUNCTIONS
10. CONCRETE COGNITION: the child is no longer the center of thought
11. SPEECH ACTS talk about the rules for context, verbal and language functions, speech acts, nonverbal characteristics of the speaker's statement and the effects on the listener:
12. EXPANDED SPEECH ACTS Speaks to us about the way in which a discourse is generalized, the functions of language are increasingly generating meanings for those who speak and who listen.