SUBJECT : Improve cycling experience for families thanks to smart cities
by milena herve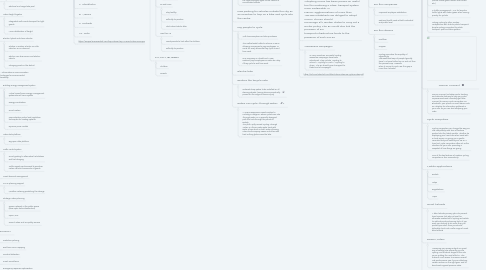 1. Target
1.1. AGES
1.1.1. 10-18 years old
1.1.1.1. Bike to school
1.1.2. 18-25
1.1.2.1. Bike to come back home after partying and drinking
1.1.3. 25-60
1.1.3.1. Bike to work
1.1.4. 60 and more
1.1.4.1. Stay healthy
1.1.4.2. Difficulty to practice
1.1.4.3. Think about electic bike
1.1.5. Less than 10
1.1.5.1. Need parents to look after the children
1.1.5.2. Difficulty to practice
1.2. FAMILY MEMBERS
1.2.1. Children
1.2.2. Parents
2. SmartCity
2.1. MOBILITY & TRANSPORT
2.1.1. Clean fuels and fuelling infrastructure
2.1.1.1. Developing charging infrastructure
2.1.1.2. Setting up refuelling facilities for alternative heavy duty fuels
2.1.2. Car sharing
2.1.2.1. Green parking index in combination with car-sharing pool with electric vehicles
2.1.3. Bicycle infrastructure
2.1.3.1. Electrical and cargo bike pool
2.1.4. Urban freight logistics
2.1.4.1. Integrated multi-mode transport for light goods
2.1.4.2. Micro distribution of freight
2.1.5. Electric, hybrid and clean vehicles
2.1.5.1. E-bikes, e-scoters, electric car club vehicles, an on-demand
2.1.5.2. Electric mini-bus service and electric vehicle
2.1.5.3. Charging points in the district
2.2. ICT : Information & Communication Technologies for environmental sustainability
2.2.1. Building energy management system
2.2.1.1. Active house/home energy management systems/smart home system
2.2.1.2. Energy visualisation
2.2.1.3. Smart meters
2.2.1.4. New adaptive control and regulation techniques for heating systems
2.2.1.5. Dynamic price models
2.2.2. Urban data platform
2.2.2.1. Big open data platform
2.2.3. Traffic control system
2.2.3.1. Smart guiding to alternative fuel stations and fast charging
2.2.3.2. Traffic signals synchronised to prioritise certain vehicle movements of goods
2.2.4. Travel demand management
2.2.5. ICT as planning support
2.2.5.1. Weather metering predicting the storage
2.2.6. Strategic urban planning
2.2.6.1. Sensor network in the public space (fibre-optic data infrastructure)
2.2.6.2. Open WiFi
2.2.6.3. Sound, video and air quality sensors
2.3. SECURITY
2.3.1. Predictive policing
2.3.2. Real-time crime mapping
2.3.3. Gunshot detection
2.3.4. Smart surveillance
2.3.5. Emergency response optimization
2.3.6. Body-worn cameras
2.3.7. Disaster early-warning systems
2.3.8. Personal alert applications
2.3.9. Home security systems
2.3.10. Data-driven building inspections
2.3.11. Crowd management
2.4. ENERGY EFFICIENCY IN BUILDINGS
2.4.1. Retrofitting the building envelope
2.5. ENERGY SYSTEMS INTEGRATION
2.5.1. District heating and cooling
2.5.2. Biomass boilers
2.5.3. Smart street lighting
2.5.4. Photovoltaics
2.6. WATER
2.6.1. Water consumption
2.6.2. Leakage detection and control
2.6.3. Smart irrigation
2.6.4. Water quality monitoring
2.6.5. Water for bicycle users
3. Legislation
3.1. While the legislation had made those inside the cars safer, it had shifted the risk on to other road users – particularly cyclists and pedestrians
3.2. Investments in cycling infrastructure
3.3. Encouraging cycling must be central to road safety policies at all political levels. Crucial is also the perception that cycling is a safe thing to do in an urban environment
3.4. Adopting SUTPs has been proven an useful tool for rendering a cities' transport system more sustainable. In France, agglomerations of more than 100,000 inhabitants are obliged to adopt SUTPs. The EU should encourage all Member States to carry out a similar policy. The EU could also link the provision of EU transport infrastructure funds to the presence of such SUTPs.
3.5. Awareness campaigns
3.5.1. In many countries, successful cycling awareness campaigns have been introduced. They include "Cycling to School", "Cycling to Work", "Cycling to Shop". The EU should give its support to these kind of campaigns.
3.6. https://ecf.com/sites/ecf.com/files/Future-cities-are-cycling-cities.pdf
4. Improvement
4.1. Free bikes available for everyone in the city
4.2. Car-free days
4.2.1. Paris has been leading the way in Europe, with the almost five-mile distance between the Arc de Triomphe and the Place de la Nation closed to car traffic once a year, which is soon to be increased to once a month
4.2.2. Asian cities such as Chengdu and Jakarta even roping off a few streets
4.2.3. London does not have a large-scale car-free day but one Sunday in September the city's boroughs agree to the closure of 50 individual streets
4.3. Free parking for vehicles outside the city as an incentive to hop on a bike and cycle into the centre
4.4. Pay people to cycle
4.4.1. With tax exemptions on bike purchases
4.4.2. The Netherlands trialled a scheme in 2018 allowing companies to pay employees 19 cents for every kilometre they cycle to and from work
4.4.3. One company in Christchurch, New Zealand, pays employees an extra $5 a day if they cycle to and from work
4.5. Electric bike
4.6. Reduce the bicycle risks
4.6.1. Ordered sharp spikes to be installed on all steering wheels, leaving drivers perpetually poised on the edge of serious injury
4.7. Riders can cycle 'through water'
4.7.1. A unique experience awaits visitors to Limburg in Belgium, where cyclists can ride 'through water' on a specially designed path that cuts through the ponds of Bokrijk. The path, aptly named Cycling Through Water, is a three-metre-wide track with water at eye-level on both sides, allowing riders to accompany swans and other wild fowl as they glide across the lake.
5. Best smart cities in Europe
5.1. 1. London
5.2. 2. Paris
5.3. 3. Reykjavík
5.4. 4. Amsterdam
5.5. 5. Berlin
5.6. 6. Copenhagen
5.7. 7. Stockholm
5.8. 8. Vienna
5.9. 9. Helsinki
5.10. 10. Oslo
5.11. https://europe.businesschief.com/top10/2606/Top-10-smart-cities-in-Europe
6. Technology
6.1. Intelligent Transport Systems (ITS)
6.1.1. On the bicycle: navigation systems, anti-theft chips, GSM-based rental system, GPS tracking, electric support when needed
6.1.2. In bicycle parkings: automatic (underground) parkings, access to parkings, counting of empty (available) places, bicycles lockers
6.1.3. In bicycle renting: automatic systems, access to lockers
6.1.4. On the internet: reservation of bicycles, bicycle routes, routeplanning for cycling (secure routes,green routes, safe routes, etc.)
6.1.5. In traffic management: VMS for bicycles, traffic lights with faster green when raining, priority for cyclists
6.1.6. Linking cycling to other modes: routeplanner with links to public transport, bicycle renting connected to public transport, park and bike systems
6.2. Garmin Connect
6.2.1. Garmin Connect includes similar tracking and calendar features to help you make improvements and ultimately get fitter. Connect to Garmin cycle computers via Bluetooth, your phone or smart device acts as a display for information gathered in your ride, so you can start analysing your rides
6.3. Cycle computers
6.3.1. Cycling computers can change the way you ride completely, with tons of features packed into the latest models. Whether it's displaying your heart rate when used with a chest sensor, or giving you a gentle reminder that your behind your PB on a time trial, cycle computers often act as the interface for your ride, providing a snapshot of how things are going.
6.3.2. One of the key features of modern cycling computers is GPS connectivity.
6.4. Mobile applications
6.4.1. Rentals
6.4.2. Helps
6.4.3. Registrations
6.4.4. Maps
6.5. Smart helmets
6.5.1. A bike helmet's primary job is to prevent head injuries, but why not use this otherwise useless bit of cycling real estate to add extra ride-enhancing tech? If you want your helmet to do more than just protect your skull, then you should definitely check out Livall's range of smart bike helmets
6.6. Power Meters
6.6.1. Measuring your power output is a great way of seeing how efficiently you are cycling, and at which stages of the ride you're putting the most effort in. This makes it much easier to measure overall ride performance, see if you're attacking certain sections in the right gear, and to benchmark against previous rides.
6.7. IA
7. Benefit
7.1. For the cities
7.1.1. Reduced congestion
7.1.2. Reduced health costs at both individual and public level
7.2. For the companies
7.2.1. Improved employee satisfaction
7.2.2. Reduced health costs at both individual and public level
7.3. For the citizens
7.3.1. Healthier
7.3.2. Happier
7.3.3. Cycling promotes the equality of opportunity The wealthiest 20% of people typically travel 4.5 times farther by car and rail than the poorest 20%. However when it comes to cycle use, this gap is more than halvedxi