SOLAR COLLECTOR
by Luz Rivas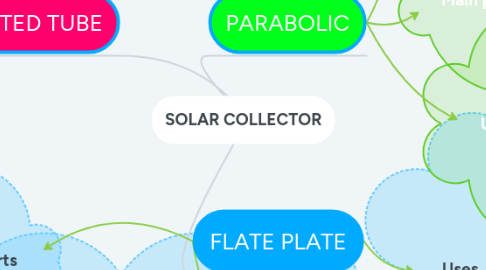 1. Main parts
1.1. A transparent cover that allows solar energy to pass through.
2. Main parts
2.1. *Foundation and Metallic structure *Parabolic trough reflector *Absorber tube
3. Main parts
3.1. Absorbs solar energy and converts it to usable heat
4. How does it work?
4.1. Each collector has a linear parabolic reflector, which focuses the sun direct beam radiation on a linear receiver located at the focus of the parabola.
5. How does it work?
5.1. It's serves to harness the energy of solar radiation. It transforms it into low temperature thermal energy.
6. Uses
6.1. Dishwasher Air conditioning Laundries
7. Uses
7.1. Parabolic trough plants are designed to use primarily solar energy to operate; if it is sufficient, this solar energy alone can operate the plants at the full rated power.
8. How does it work?
8.1. They are made up of a single or multiple rows of parallel, transparent glass tubes supported on a frame
9. PARABOLIC
10. FLATE PLATE
11. EVACUATED TUBE
12. Uses
12.1. Are a very efficient way of heating much of your hot water use just using the power of the sun.