The Four P's of Marketing: TOYOTA
by Mercy Ude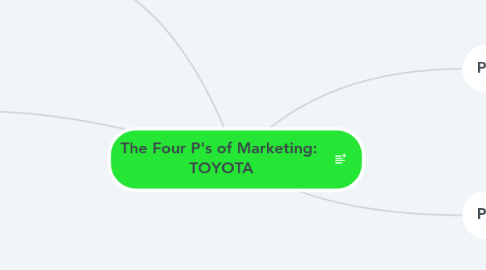 1. Product
1.1. yaris Sedan, Vios,Avalon, camry, Avensis, seana
1.2. lexus,iQ, corolla Altis, sequoia,platinum etios,
2. Promotion
2.1. Market communication, flyers, endorse celeberities as brand ambassadors, Catchy slogans.
2.2. Social Media, yearly dream car award contest for children, sponsor various sports, conduct motor shows.
2.3. personal selling at outlets, talent shows like feeling the streets.
3. Place
3.1. Retailer and dealership outlets,show rooms, about 170 distributors and 2300 sales outlet around the world.
3.2. exhibition centers, main channels e.g toyota for luxury brand of vehicles, toyota for medium market, corolla for compact
4. Price
4.1. price is flexible and based on competition,segment,geography, demand,model,options and make all relatively of good quality and affordable.