Reinvent flying experience for pet owners with Internet of Things
by Daniel Atger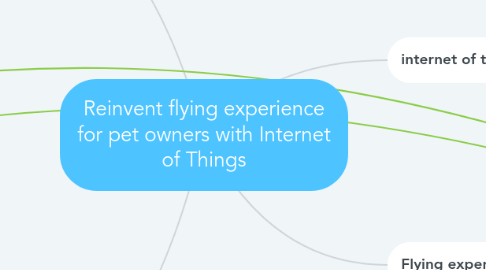 1. internet of things
1.1. definition ?
1.1.1. a system of interrelated computing devices
1.1.1.1. how to apply it to the subject?
1.1.1.1.1. Use a system like Nest for pets?
1.1.1.1.2. e-Health
2. Travel with his pet
2.1. Is it even possible?
2.2. How?
2.2.1. the transport:
2.2.1.1. Many requirements:
2.2.1.1.1. transport containers must be in plastique or glass
2.2.1.1.2. pet has to be able to stand
2.2.1.1.3. pet must have all vaccines required
2.2.1.1.4. pets need a personal passport and have an electronic chip
2.2.1.2. Where in the plane ?
2.2.1.2.1. For most compagnies, below 8kg pets can stay in cabines and over 8 kg they must be in the aircraft hold
2.2.1.3. the price
2.2.1.3.1. Price example of Air Alitalia: 20$ if the plane travels inside Italy, 75$ if the plaane travels through Europe, betwenn 200 and 250$ if the plane travels outside of Europe
2.2.1.4. How about stops during the trip
2.2.1.4.1. All has to be thought before the trip , such as legislation requirement etc...
2.2.2. Is it dangerous for pets?
2.2.2.1. it depends on his sensibility, for example bulldogs are known for being responsive so they are not accepted on Air France for instance
3. Reinvent
3.1. What is working?
3.1.1. Best compagny according to polls: Delta Air Lines
3.1.1.1. why?
3.1.1.1.1. It's climate controlled and well-regulated.. when you fly during the summer and they are able to accommodate the pets despite the heat because of air conditioned transport between the terminal and plane
3.2. motivations?
3.2.1. what are the motivation of pet owners to take their pet with them?
3.2.1.1. According to the TPG and Airfarewatchdog.com reader survey, the most popular reason travelers fly with a pet (40.7%) is because they can't — or simply won't — leave their pet at home. Moving to a new location came in second, with 27.4% of the vote. For 21.9% of travelers, it's the need for emotional support.
3.3. What is not working ?
3.3.1. What should be improved?
3.3.1.1. In both cases if the pet owners travels with his pet but his pet is in the aircraft hold or he is not with his pet owner, they are seperated which creates stress or lonelyness
3.3.1.1.1. How to connect pet owner and his pet?
4. Flying experiences
4.1. pet owner afraid of taking the plane ?
4.2. Standart experience: wait and sit on a chair
4.3. new experiences with much bigger planes
4.3.1. possibility of stand and have physical training
4.3.1.1. Enjoy some time with his own pet