Ops Worry List
by Ross McTaggart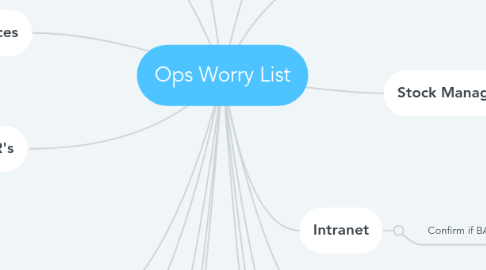 1. Design Artefacts
1.1. Programme Owner Adam Serle
1.1.1. Action is to create a "tunnel dug from each side". What does Programme have and What do Ops need?
1.1.1.1. Alan Hickmott creating Programme catalogue - Martin Smith will cover process elements
2. IFS 360 Upgrade
2.1. Programme Owner Adam Searle
2.1.1. 5.8 v 5.9 v 6.0 covered by Scheduling "getting a grip" plan
3. Scheduling
3.1. Programme Owner Chris Fegan
3.1.1. Fortnightly update calls scheduled
3.1.2. Plan to get a grip until end December
4. Interventions
4.1. Ops Owner Steve West
4.1.1. Central Register maintained
4.1.2. Needs to link to Change Portfolio
5. Mobile Devices
5.1. Legacy CR drafted - had been descoped
5.1.1. Back in Scope?
6. Stock Management
6.1. CR agreed as R2
6.2. Ross to confirm position on initial receipt process - Done
6.2.1. Bernadette Confirmed Logistics part of Ops Readiness Plan
7. Undefined Change/CR's
7.1. Change Portfolio Review
7.1.1. Next action is to remove anything with undefined requirements, or target a date for requirements
8. Intranet
8.1. Confirm if BAU delivery?
9. LMS
9.1. Confirm if BAU delivery?
10. In Life IT Management
10.1. Kick off workshops 07/11/2019
10.1.1. Working Group to formulated, Jo considering who to lead. Inputs required from Solution and ITSM workstreams
11. UAT Outputs
11.1. Programme Owner Lee Blades
11.1.1. Structure and comms routes agreed with Key Personnel
11.1.2. Pipeline of stuff coming out of the room - LB has built a tracker to put in to the review cycle
12. Testing SM Issues
12.1. Owner TBA
12.1.1. Requirement is to start to populate KBA's with stuff we have learned from testing i.e. not defects
13. Tablets
13.1. Replacement Strategy
13.2. W8/10
13.3. Dual Boot
14. POM Resilience
14.1. Adam Searle Programme Owner
14.1.1. Resilience needs to be n+1 but is not currently
14.1.2. POM support not being provided by Geomant, alternative approach to be developed
15. Systems EOL Issue
15.1. Programme Owner Adam S
15.1.1. Multiple components go EOL before 2024, possibly requiring SQL and CRM upgrades
16. Performance Testing
16.1. Matt Geary Programme Owner
16.1.1. NFRs not defined
16.1.2. Key Processes to be defined and measured in Bridge
17. Closed CRs