"Present knowledge is wholly dependent on past knowledge." Discuss this claim with reference to two areas of knowledge.
by Macauley Robertson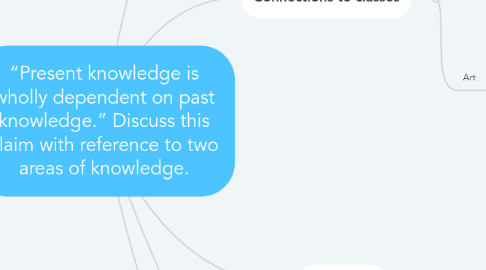 1. Key Words
1.1. Define
1.1.1. Definition
1.1.1.1. entirely; fully
1.1.2. Wholly
1.1.2.1. Personal interpretation
1.1.2.1.1. Full comprehension and understanding
1.1.3. Knowledge
1.1.3.1. Definition
1.1.3.1.1. Facts, information or skills acquired through experience or Education, the theoretical and practical understanding of a subject
1.1.3.2. Personal interpretation
1.1.3.2.1. a way of knowing certain subjects or anything general that is inherited by Education & experiences
2. Key Phrases
2.1. rephrase
2.1.1. Present knowledge
2.1.1.1. Knowledge that is evident in the current world, information feeding current needs. what we know right now
2.1.2. Past knowledge
2.1.2.1. Knowledge that has been acquired prior to the current moment. what we know from experiences or education.
2.1.3. Dependent on
2.1.3.1. completely reliant on a specific thing
3. Rewrite
3.1. 1. Knowledge that is defined as present is completely reliant on knowledge which was acquired in the past
3.2. 2. We would not know what we know in the present if it was not for past findings.
4. Connections to classes
4.1. Nature of Science
4.1.1. AOK
4.1.1.1. Natural sciences
4.1.2. RLE/PK: Early philosophers provided a foundation for the current understanding of Astronomy
4.1.2.1. The grand understanding of our universe and everything in that realm of understanding was entirely based off of growing technological advancements.
4.1.2.1.1. WOK: Reason
4.1.2.1.2. WOK: Intuition
4.1.2.2. The early philosophers provided guidance and avenues to explore and dispute
4.1.2.2.1. WOK: Memory
4.1.2.2.2. WOK: Sense Perception
4.2. Art
4.2.1. AOK
4.2.1.1. The Arts
4.2.2. RLE/PK: Past paintings give the viewer an insight into previous experiences and what life was like in the past.
4.2.2.1. We would would lack understanding of Historical events again back thousands of years if it was not for paintings.
4.2.2.1.1. WOK: Sense Perception
4.2.2.1.2. WOK: Memory
4.2.2.2. Paintings and illustrations provide an insight into the past however we would still have a strong foundation if it was not for them
4.2.2.2.1. WOK: Imagination
4.2.2.2.2. WOK: Sense Perception
5. Rewrite