LIGHT DRY CONSTRUCTIONS
by rafael españa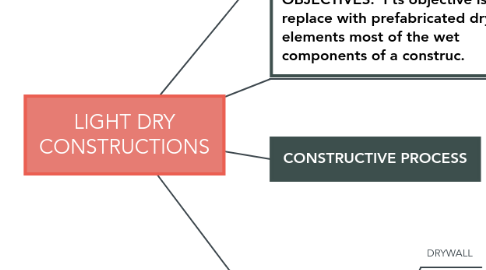 1. DEFINITION: It´s an art made structure are uses with materials that do not reguire cement,sand or concrete.
1.1. WHAT IS IT?? It is an innovative system based on plasterboard and cellulose paper or fiber cement.
2. OBJECTIVES: I'ts objective is to replace with prefabricated dry, elements most of the wet components of a construc.
2.1. FEATURES: It has no limitate, fast execution.
3. CONSTRUCTIVE PROCESS
3.1. 1. PLOTTED
3.2. 2. PLACE STRUCTURE
3.3. 3. PLACE PANEL YESO
3.4. 4. FINISHES
4. MATERIALS
4.1. DRYWALL
4.2. SHEET ROCK
4.3. SUPERBOARD
4.4. METAL STRUCTURE OR WOODEN STRUCTURE
4.5. ANCHORS AND FIXINGS