Improve museum visit experience for kids with gaming
by Limouzin Augustin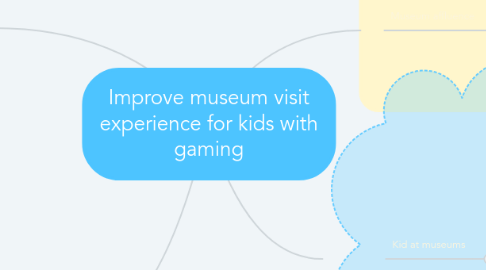 1. Museum affluence
1.1. How to improve affluence gestion in museums ?
1.1.1. It could be boring for kids to be in waiting lines in museums
1.2. Source : https://www.beauxarts.com/lifestyle/8-astuces-pour-ne-jamais-faire-la-queue-au-musee/
1.3. Where to go to avoid waiting lines
2. Kid at museums
2.1. Why do you have to go at museum with your family
2.1.1. Source : https://avenuereinemathilde.com/pourquoi-visiter-un-musee-avec-enfants/
2.1.2. Museum are too calm for kids
2.2. Why kids don't like museum ?
2.2.1. Source : https://www.lemonde.fr/big-browser/article/2014/08/07/emmener-ses-enfants-au-musee-a-t-il-un-sens_5999879_4832693.html
2.2.2. Museums are not adapted for kids
2.3. Museum that kids like
2.3.1. Source : https://www.laligue.be/leligueur/articles/pour-prendre-du-plaisir-au-musee-les-enfants-doivent-etre-actifs
2.3.2. To enjoy museum kids have to be activ
3. Museum and gaming
3.1. Interactive museum
3.1.1. When you feel imply in your visit you are more willling to come back. It's easier to learn thing when you are involve
3.2. New perspectives of visiting and dicovering
3.2.1. Source: https://mm.tt/1364967370?t=OrBeJ88oLl
3.2.2. Virtual reality can open a new way of visiting museums
4. Kids and Gaming
4.1. All kids are playing videogames nowadays
4.2. Gaming is a new way of learning that is used in many new pedagogic methods