TOP MAIN MYTHS ABOUT MANUFACTURING
by Franco Ocnarf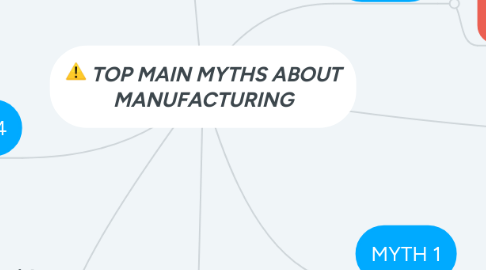 1. Today's workers are highly skilled, tech-savvy and innovative, often moving between roles within a single shift. The growing proliferation of automation means you're now more likely to see a worker with a computer or control unit in their hand, rather than a hammer. And frequentlly the business pay well workers with more knowledge, disposition to learn and new good ideias.
2. Manufacturing is unimportant
2.1. BUSTED
3. MYTH 1
3.1. It is a myth beacause the total economic contribution of manufacturing (11%) and finance & professional services (12%) is practically the same.
4. MYTH 2
4.1. Manufacturing is dirty and unhealthy
4.1.1. BUSTED
4.2. It wasn't a myth, but nowadays at least in first world countries it is changing. We have now, epi and other security gadgets used obrigatorilly. Well organized hours of work and health plans, etc.
5. MYTH 3
5.1. Manufacturing is poorly paid
5.1.1. BUSTED
5.2. What proves that it is a myth is that the average payment of manufarcturing people are bigger than the services average, and even bigger thant the average works.
6. MYTH 4
6.1. Manufacturing is for "less academic" people
6.1.1. BUSTED
7. MYTH 5
7.1. Manufacturing is no place for women
7.1.1. BUSTED
7.2. Less than 10% of the engineers of UK are women, and the average manufacturing people is made up of 85% men and 15% women. But this realit is changing: campaigns like the National / International Women in Engineering Day, the Women's Engineering Society, and magazines that celebrate the huge achievements of women in industry. Fuerther it, new industry qualities are starting to be well paid. Individual characterits like creativity, inovation and will to learn more.