ASSESSMENT TASK 2B: STEPS TOWARDS BECOMING A THOUGHT LEADER
by N MONAU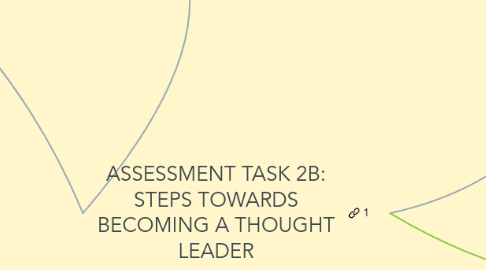 1. TEACHER & STUDENTS CREATING LEARNING OPPORTUNITIES
2. Create a conducive learning environment; Empower your student as a fundamental condition for learning.
3. Negotiate learning
4. respond to students' changing needs and involve them in deciding the direction of the curriculum
5. DEVELOPING AN EXPERT LEARNER
6. develop student understanding of learning and expand their strategies for thinking,learning and working collaboratively
7. PERSONALISE AND CONNECT LEARNING
8. identify learners' prior knowledge and cultural practices as the beginning for curriculum
9. THOUGHT LEADER'S VIEW OF HOW PEOPLE LEARN
10. THOUGHT LEADER'S CONCEPTUALISATION OF EDUCATION KNOWLEDGE
11. VIDEO ON THE CONCEPTS OF ONTOLOGY, EPISTEMOLOGY AND RESEARCH PARADIGM: CONCEPTS THAT A THOUGHT LEADER IN THE EDUCATION SYSTEM SHOULD RELY FOR AN EFFICIENT PROFESSIONAL
12. CLUSTER OF BEHAVIOURISM
13. Stresses change in behaviour for the successful process of learning, thus structures that will make learning to easily take place. Behaviourism as a theory stresses involving learners in their learning process.
14. educator should catch learners' attention by involving them to volunteer information on what they want to learn at the end of the topic with reference to set objectives.
15. CLUSTER OF SOCIO-CULTURAL
16. States the use of problem based approach to learning. Challenges are put forward before learners to work in groups in order to find solutions. In simple terms socio-cultural theory of learning stresses collaboration.
17. PERSONAL TEACHING PHILOSOPHY
18. MODEL 1: I believe that there are five essential elements that are conducive to learning. (1) The teacher's role is to act as a guide. (2) Students must have access to hands-on activities. (3) Students should be able to have choices and let their curiosity direct their learning. (4) Students need the opportunity to practice skills in a safe environment. (5) Technology must be incorporated into the school day.
19. MODEL 2: Every classroom has its own unique community; my role as the teacher will be to assist each child in developing their own potential and learning styles. I will present a curriculum that will incorporate each different learning style, as well as make the content relevant to the students' lives. I will incorporate hands-on learning, cooperative learning, projects, themes, and individual work that engage and activate students learning.
20. MODEL 3: I aim to bring an open mind, a positive attitude, and high expectations to the classroom each day. I believe that I owe it to my students, as well as the community, to bring consistency, diligence, and warmth to my job in the hope that I can ultimately inspire and encourage such traits in the children as well.
21. MY ONLINE PERSONA AS A THOUGHT LEADER
22. INPUTS: In developing online teaching persona the following will be considered
23. Teaching and humanism: teaching online will be implored in order to develop interpersonal relationships through written discourse and closely following the evolution of my students thinking over time
24. Unique Identity: Utilisation of technological tools will be utilised in order to capitalise on my unique identity through encouraging learners to send email and posting comments on discussion boards
25. Time management; course designs and assignments given will be balanced with workload though its online teaching and learning that is ever continuos
26. Projecting Presence i will project my presence as an expert, facilitator and mentor to learners through weekly announcements and video recaps of learning content
27. Effective Communication should be fostered through consistent and timely responses since there is no physical contacts