FUNDAMENTAL THEOREM OF ALGEBRA
by Ana Bless Polea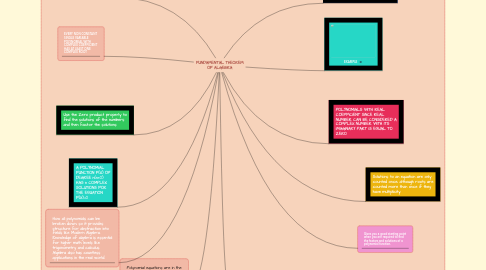 1. EQUATION WHICH CAN BE PUT IN THE FORM WITH ZERO ON THE SIDE OF THE EQUAL SIGN
2. Something interesting about polynomials
3. EXAMPLE
4. A POLYNOMIAL FUNCTION F(X) OF DEGREE n(n>0) HAS n COMPLEX SOLUTIONS FOR THE EQUATION F(X)=0
5. POLYNOMIALS WITH REAL COEFFICIENT SINCE REAL NUMBER CAN BE CONSIDERED A COMPLEX NUMBER WITH ITS IMAGINARY PART IS EQUAL TO ZERO
6. Solutions to an equation are only counted once, although roots are counted more than once if they have multiplicity.
7. How all polynomials can be broken down, so it provides structure for abstraction into fields like Modern Algebra. Knowledge of algebra is essential for higher math levels like trigonometry and calculus. Algebra also has countless applications in the real world.
8. Use the Zero product properly to find the solutions of the numbers and then factor the solutions
9. EVERY NON CONSTANT SINGLE VARIABLE POLYNOMIAL WITH COMPLEX COEFFICIENT HAS AT LEAST ONE COMPLEX ROOT
10. Gives you a good starting point when you are required to find the factors and solutions of a polynomial function.
11. Polynomial equations are in the form P(x) = anxn + an-1xn-1 + ... + a1x + a0 = 0,
12. Use this theorem to argue that, if f(x) is a polynomial of degree n>0, and a is a non-zero real number, then f(x) has exactly n linear factors