3 ELEMENTS OF CONTRACT
by hydrangea bluey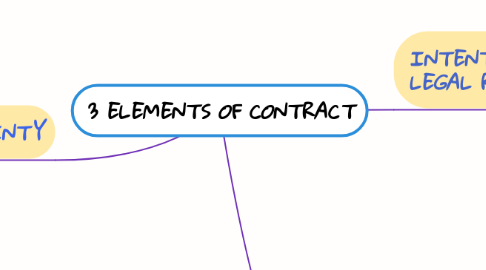 1. INTENTION TO CREATE A LEGAL RELATION
1.1. -
1.2. An intention to enter a legally binding agreement or contract
1.3. Intention to create legal relations is a motion of every contracting party must have the necessary intention to enter into a legally binding contract
1.4. There are a few concept of intention to create legal relations. Intention to create legal relations also means an intention to be serious about agreement significance
1.5. The contracting parties mind will be obvious to enter a serious contract
1.6. If there is no intention to create legal relations the contract would not be enforceable, legal and binding
1.7. Even Contract Law Act 1950 is silent on intention to create legal relations as an element of a valid contract, Thus English common law principles will apply
1.8. Carlill V Carbolic Smoke Ball Company
2. CERTAINTY
2.1. A legal requirement of a valid offer to contract; that it must be precise and definite in order to be subject to acceptance.
2.2. For instance, "An agreement may lack contractual force because it is so vague or uncertain that no definite meaning can be given to it without adding further terms."
2.3. Section 30 of Contract Act 1950
2.4. Karuppan Chetty V Suah Thian
3. CAPACITY
3.1. Capacity means that a person is legally able to enter into a contract.
3.2. There are some essential capacities to make a legal contract, such as age of maturity or minor is eighteen above and mental incapacitation is psychological disabilities.
3.3. Section 10 & 11 of Contract Act 1950
3.4. Tan Hee Juan V Teh Boon Kiat