Classroom Management by Kimin Kim
by Kimin Kim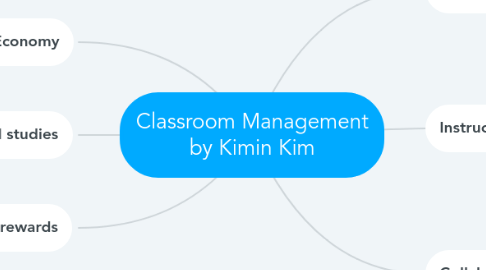 1. Signal Control
1.1. Ready to rock! Ready to roll!
1.2. clap five times in a beat
1.3. hands on your head if you can hear me… hands-on your shoulder if you can hear me and put your hands together and stop
2. Token Economy
2.1. Rock star of the week
2.2. Table Points
2.3. Class Dojo points
3. Instructional Grouping
3.1. partnership discussions Turn & Talk
3.2. ELA/ Math group academic level of individual students based on their assessments
4. social studies
4.1. Learn about different family, community, and holidays
5. monthly school-wide rewards
5.1. Character traits based student of the month
5.2. Math Masters
5.3. Quill Awards (ELA)
6. Collaborative Learning
6.1. Students with different learning abilities work together in a small group toward the same learning goal
6.2. Many students participate actively in class,
6.3. taught through a variety of learning activities, the process itself is enjoyable for students.