The Joker
by Niels van der Poel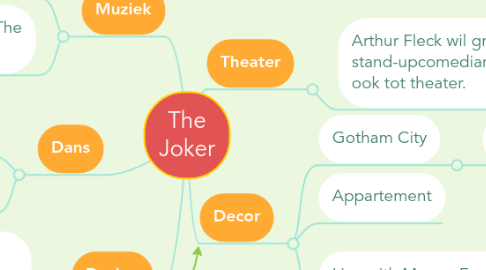 1. Muziek
1.1. Muziek uit de jaren 80
1.2. Zelfde muziekstijl als in Taxi Driver en The King of Comedy
2. Decor
2.1. Gotham City
2.1.1. Net zoals in Taxi Driver heel donker en vies.
2.2. Appartement
2.3. Live with Murray Franklin
2.3.1. In The King of Comedy is er ook een talkshow. Daar heet het de The Jerry Langford Show.
3. Dans
3.1. Arthur danst verschillende keren in de film gewoon op willekeurige plekken.
3.2. Hierdoor ziet Arthur eruit als een gek
4. Design
4.1. Veel voorwerpen in de film moesten ontworpen worden zoals alle spullen in het appartement van Arthur Fleck.
5. Theater
5.1. Arthur Fleck wil graag een stand-upcomedian worden. Cabaret behoor ook tot theater.
5.1.1. De hoofdpersoon in The King of Comedy wil ook een stand-upcomedian worden