B.B. King is the trailblazer for African American artist becoming global with their music.
by Joseph Jorge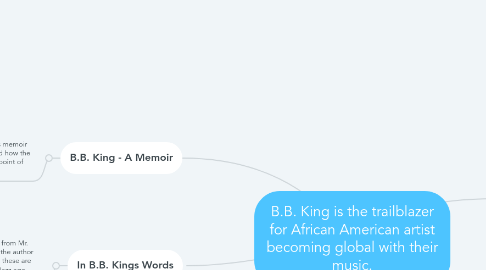 1. "I call him father of us all": vicarious transcendence at the B. B. King Museum and Delta Interpretive Center
1.1. In this article author Roger Davis goes into detail on BB King's museum and discuses the legacy the musician left behind.
2. "Everything leads me back to the feeling of the blues."
2.1. In this article author William Ferris goes in and describes King"s musical performances coming up from his humble beginnings to super stardom.
3. B.B. King - A Memoir
3.1. Author Peter B. Lowry restates his memoir and re accounts meeting King and how the two grew up friends and Lowry's point of view being B.B. King's friend.
4. In B.B. Kings Words
4.1. In this book words and quotes from Mr. King himself are reflected and the author is King himself due to that fact these are his words , he talks about the Jazz age and how it's changed and his effect on the era as a whole.
5. Black, White, and Blue: Racial Politics in B.B. King's Music from the 1960s
5.1. In this article author Ultrich Adelt goes into vivid detail in the struggle and injustice King faced as an up incoming performer and how he helped paved the way for African American musicians.