WHY CLIL?
by Rocio Cruz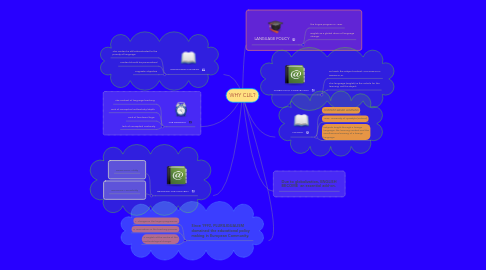 1. LANGUAGE POLICY
1.1. the lingua program in 1990.
1.2. English as a global driver of language change.
2. CURRICULUM CONSTRAINTS
2.1. To teach the subject content: CONCEPTUAL OBJECTIVE.
2.2. The language (English) is the vehicle for the learning, not the object.
3. THE PROBLEM
3.1. The content of language teaching.
3.2. Lack of conceptual authenticity/depth.
3.3. Lack of functional logic.
3.4. lack of conceptual continuity
4. DISPOSABLE CONTENT
4.1. The content is still subordinated to the priority of langauge.
4.2. Content should be personalised
4.3. Linguistic objective
5. DECIDING THE CONTENT
5.1. SELECTION: Utility
5.2. GRADING: Learnability
6. HISTORY
6.1. CONTENT-BASED LEARNING
6.2. 1994, University of Jyväskylä (Finland)
6.3. subjects taught through a foreign language: the learning content and the simultaneous learning of a foreign language.
7. Since 1992, PLURILIGUALISM domained the educational policy making in European Community.
7.1. 1. changes in the lingua programme.
7.2. 2. innovations in the teaching process.
7.3. 3. English at the centre of the methodological change.
8. Due to globalization, ENGLISH BECOME an essential add-on.