Improve sustainable cities experience for families thanks to Local manufacturing
by Isabela Scheible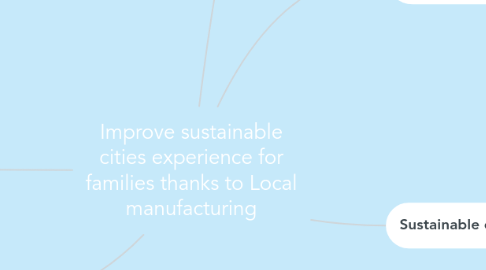 1. Sustainable cities and communities
1.1. Rapid urban growth poses real challenges for urban populations and communities
1.1.1. How to acheive sustainable cities? THE NEW URBAN AGENDA
1.1.1.1. Financing the new urban agenda
1.1.1.1.1. Helping entrepeneurs and local initiatives developing new solutions for urban problems
1.1.1.2. Promoting territorial development
1.1.1.2.1. Creating solutions to spread the production and make people create things locally
1.1.1.3. Building resilience to natural disasters and climate change
1.1.1.3.1. Local manufacturing as a solution to build products and solutions to resilience to natural disasters and climate change
1.1.1.3.2. Build solutions to avoid flooding due to the rise of the see level
2. Local manufacturing as key solution for sustainability
2.1. Local manufacturing related to the three pillars of sustainability
2.1.1. Economical
2.1.1.1. Local manufacturing must highlight its advantage in creating sustainable profits
2.1.1.1.1. When manufacturing shifts to the local scale and technology is smartly utilized, decisions can be made quickly.
2.1.2. Social
2.1.2.1. When producing locally the industry is hiring the local community and bringing wealth to the local community
2.1.2.1.1. It reintroduces meaningful work, quality education and a deepening of social networks in cities and towns around the world.
2.1.3. Environmental
2.1.3.1. Local manufactors are more preocupied of the possible impacts of their bussiness to the environment that they are located at
2.1.3.1.1. This leads to better environmental practices and solutions to production
3. Experiences in sustainable cities
3.1. Sustainable cities are about balance
3.1.1. Balance between
3.1.1.1. Social issues
3.1.1.2. Economic growth
3.1.1.3. Environmental problems
4. Examples of sustainable local manufacturing
4.1. Any business can start a local operation and benefit from the good impacts of local manufacturing
5. Sustainable cities
5.1. Arcadis Sustainable Cities Index of 2018
5.1.1. The index focuses on sustainability from citizens' perspectives, looking into a variety of issues, including planning, governance, and adaptability.
5.1.1.1. Sustainability citeria
5.1.1.1.1. People
5.1.1.1.2. Environment
5.1.1.1.3. Profit
5.2. TOP 5 Sustainable Cities Index
5.2.1. London
5.2.2. Stockholm
5.2.3. Edinburgh
5.2.4. Vienna
5.2.5. Singapore