Business Ethics
by
Jordan King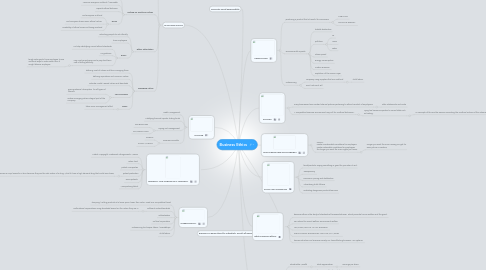 0.0
stars - reviews range from
0
to
5
FINANCE
Debt Management
Falsifying financial reports, hiding funds
Paying out management
Buisness Scandals
HUMAN RESOURCE MANAGEMENT
Unions: create unsustainable conditions for employers create sustainable conditions for employees the longer you work the more rights you have?
SALES AND MARKETING
food/products, saying something is good for you when it isn't.
Transparency
Fairness in pricing and distribution
Advertising truth-fullness
marketing dangerous products/services
PRODUCTION
producing a product that is harmful to consumers:
environmental impacts
Outsourcing
PROPERTY AND INTELLECTUAL PROPERTY
Patent, Copyright, Trademark infringements. Misuse
native land
patent monopolies
patent protection
Gene patents
Monopolizing talent
INTERNATIONAL
dumping / selling products at a lower price, lower then value. Used as a competitive threat.
Different codes/Standards
Globalization
Cultural Imperialism
Outsourcing to cheaper labour / sweatshops
Child labour
POLICIES
many businesses have created internal policies pertaining to ethical conduct of employees:
A competitive business environment may call for unethical behaviour .
MANAGING ETHICS
Compliance
Relying on employee values
Ethics exhortation
Managing Values
Business is a game played by individuals, as with all games the object is to win.
What is Business Ethics?
business ethics is the study of standards of business behavior which promote human welfare and the good.
can extend to animal welfare, environment welfare
HOW INDIVIDUALS ACT IN BUSINESS
STRUCTURING BUSINESSES AND THE WAY WORK
how we structure our business society, our laws affecting business , our systems
Corporate Social Responsibility
Ethical Dilemmas
Shareholder Wealth
Profit Maximization
Return on Investment
Externalities
Fiduciary Responsiblity