THE FOUR SKILLS FOR CHILDRENS
by Cesar Damian Luna OrtiZ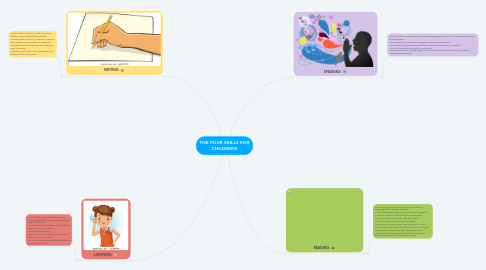 1. LISTENING
1.1. -If we want young learners to use the foreign language they are learning, they have to listen first. -We can describe a picture. The students have to draw the picture. -Children love stories. -When we read to children we have to be animated and dramatic. -We can tell a story and the students have to mime the actions,
2. SPEAKING
2.1. -When we want our students to practise speaking, we can use a number of activities or techniques. -The students can interview puppets or their special friends. -We need to help young learners become good storytellers in english. -We can scaffold stories with our students. -Young learners are usually happy to become involved in playacting and drama. -Students can roleplay.
3. WRITING
3.1. -When students start to write, they find another way to express themselves. -Some students find it far easier to express them selves in writing than in speaking. -Students need to copy words so they get used to writing. -Children need help in forming letters and putting letters into words.
4. READING
4.1. -When young learners start reading we have to encourage them to love reading. -In the first stages of reading, we want our students recognise letters, whole words and sentences. -They can follow the words with the fingers. -We can show the students word shapes. -We can give students word and morpheme cards. -If we want our students to read aloud, we most give them time to think about how to read the text. -It's important that students should be allowed to choose the books that they want to read.