JELLYWEB evolution
by
Willi Schroll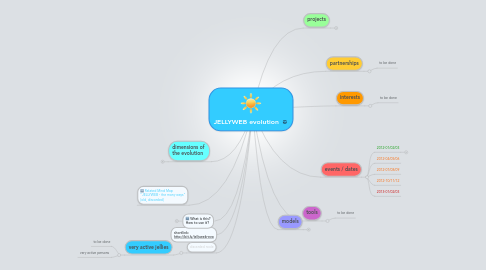 0.0
stars -
0
reviews range from
0
to
5
JELLYWEB evolution
shortlink: http://bit.ly/jellyweb-evo
discarded node
very active jellies
interests
to be done
tools
to be done
projects
Map of Alternative Education (NextEdu, presente!)
Coworker Toolbox
CoLabWeb - hybrid-global network of coworker labs
#JellyFriday
JellyWeek Quilt
Jelly Social Currency
more to be done ... meanwhile check the overview ...
partnerships
to be done
events / dates
2012-01/02/03
2012-04/05/06
2012-07/08/09
2012-10/11/12
2013-01/02/03
models
examples of an offer
models of coworking
models of coworking space
What is this? How to use it?
Purpose: Making valuable information accessible, findable and editable. Creating orientation.
Explore the unfolding evolution!
Context: This map has been created after the #JELLYWEEK 2012.
Dear User! Your input here is valuable and appreciated.
FAQ
Who started this map?
dimensions of the evolution
skill sharing + learn together
help + support instantly to answer or solve a problem
Cowo Sourcing
Community of Practice / Knowledge Community
Related Mind Map "JELLYWEB - the many ways" (old, discarded)