JELLYWEB evolution
by
Willi Schroll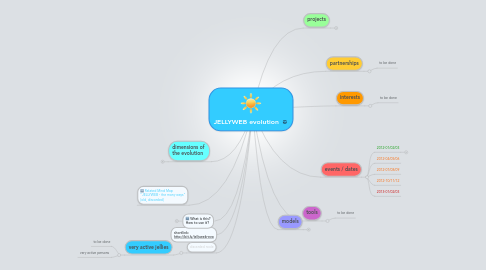 0.0
stars -
0
reviews range from
0
to
5
JELLYWEB evolution
shortlink: http://bit.ly/jellyweb-evo
discarded node
very active jellies
to be done
very active persons
interests
to be done
tools
to be done
projects
Map of Alternative Education (NextEdu, presente!)
Map of Alternative Education Initiatives and Institutions http://coolmeia.org/educa/
http://coolmeia.org/
interesting indicator concept (thx Daniel for the hint) http://www.understandingglasgow.com/, https://www.facebook.com/profile.php?id=566743020
Coworker Toolbox
Open Topic Hangouts, ... collaborative "telepresence" setting assembled to a working environment based on some free tools
CoLabWeb - hybrid-global network of coworker labs
"coworking laboratory" - impulse (after JW12): by Gunasekar C Rajaratnam https://www.facebook.com/crguna, https://www.facebook.com/groups/cowoworld/266732016734068/
related ideas / movements / causes, maker movement, The maker movement's potential for education, jobs and innovation is growing - O'Reilly Radar http://radar.oreilly.com/2011/11/dale-dougherty-make-white-house.html, The Maker Movement Creates Jobs | PCWorld http://www.pcworld.com/article/242234/the_maker_movement_creates_jobs.html, science without borders, e.g. http://www.scientistswithoutborders.org/, citizen science projects, e.g. http://www.citizensciencealliance.org/ collaboration of scientists, software developers and educators, e.g. http://scistarter.com/, google query
#JellyFriday
e.g. regul. hangouts
meetup conventions are recommended as an "organic growth" strategy, e.g. a convention to have a jelly on 1st friday in a month increases the possibility to have virtual meetings / video chats in "apt timezone corridors / gateways" (effect: critical mass, high serendipity), if the intensity of a collaboration is growing then the frequency can rise (effect: scalability)
JellyWeek Quilt
Jelly Social Currency
more to be done ... meanwhile check the overview ...
partnerships
to be done
events / dates
2012-01/02/03
FEB 03 Jellyfriday #J104, Brazil + #Jxxx Oslo, Norway, Jellyfriday at Moleque de ideias, Niterói, RJ, IMAGES Jellyfridays 2012 at Moleque de ideias, #coffee neighborhood network that distributes coffee and knowledge about coffee, #urban #agriculture, http://www.molequedeideias.net/ (Portuguese), IMAGES, facebook thread
2012-04/05/06
2012-07/08/09
2012-10/11/12
2013-01/02/03
models
examples of an offer
models of coworking
models of coworking space
2012 / Exceptional coworking space models ::: Deskmag - The Coworking Magazine, (1) Temporary spaces - paying w/benefits - career centers, (2) Niche coworking spaces, sponsorships ..., (3) Helping coworking members interact ::: Deskmag - The Coworking Magazine
What is this? How to use it?
Purpose: Making valuable information accessible, findable and editable. Creating orientation.
Explore the unfolding evolution!
Context: This map has been created after the #JELLYWEEK 2012.
Why this map? "Facebook groups" are fine "to keep you updated". Means: they function like a board or a blog. But they are a bad choice to organize knowledge. See the Wikipedia, which is based on the wiki concept. As this map grows we might transform it into a wiki later. In the moment a mind map is fine.
Dear User! Your input here is valuable and appreciated.
I really like simple and smart solutions. Especially when they are upward compatible. Means: No input should get lost in the case that this knowledge repository migrates to some other, more capable platform! (Willi)
FAQ
How to do a line break?, hold shift + press return
Who started this map?
Willi Schroll
dimensions of the evolution
skill sharing + learn together
same place, cowo space: invite now target groups, intergenerational learning, kids + experience learning, make an event e.g. "Learn Jelly" - find a partner to learn/train a language (or programming, ...), model/example: http://www.skillshare.com/
remote / hybrid, find a language partner, model/example: http://www.italki.com/
long term
help + support instantly to answer or solve a problem
twitter with hashtags #jellyweb #help
the precondition. that this works is to make the hashtag channel #jellyweb known and used!!!
-> 2do build a hashtag map (+ gho), + announce it in the channels
Cowo Sourcing
crowdsourcing in research
Community of Practice / Knowledge Community
Related Mind Map "JELLYWEB - the many ways" (old, discarded)