LANGUAGE IN THE PYP is centred around THE LEARNER, supported by the LEARNING & TEACHING and involves the LEARNING COMMUNITY.
by Baoyu Chang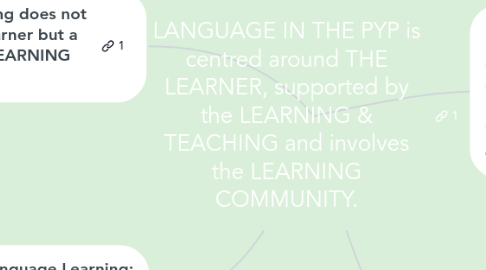 1. Through creating a language policy that considers the language profile(s) of the community, a school will be able to set the foundation for language learning in the community. In order for this to happen, a multilingual community must be built by agreeing on shared beliefs and perspectives. Building a multilingual community enriches the language learning experience of the learner and community. Such collaboration between learners and the community in establishing agreements and practices would help the learner to make authentic connections within the learning community.
1.1. The school implements and review a language policy that is aligned with IB language policy guidelines. (Bonnie)
1.2. The school recognizes multilingualism as a fact, a right and a resource for learning. (Bonnie)
1.3. A variety of physical and virtual resources used to facilitate language development. (Bonnie)
1.4. The school clearly describes in its language policy the rights and responsibilities of all members of the school community and what constitutes good practice within the school context. (Bonnie)
2. 1. Language allows the learner to express his/her identity, develop international-mindedness, become literate as well as inquire and communicate effectively. (THE LEARNER)
2.1. The inextricable link between language and the learner's identity; Giving consideration to the learner's language profile such as his/her home language competency, preferences, beliefs and values will enable teachers to plan for language teaching and learning that maximizes the learner's language development.
2.2. With the flexibility for students to access and communicate information in their preferred language or in the language of instruction, students will be able to construct their own understanding as well as consider the perspectives of others, enabling them to become internationally-minded as they make local and global connections in discussions and conversations.
2.3. Learning an additional language allows students to develop international-mindedness. Bilingual and dual language schools do not need introduce an additional language however they may choose to (TEACHING AND LEARNING) (Gina)
2.4. A powerful means to establish a multilingual class community is for students to develop their own "student language agreements" as a group or learning community (Chumak-Horbatsch 2012). (Gina)
3. 2. Language learning does not only involve the learner but a community. (THE LEARNING COMMUNITY)
4. 3. The 3 facets of Language Learning; Learning Language, Learning About Language and Learning Through Language. ( LEARNING & TEACHING)
4.1. This works on the premise of the IB philosophy that every teacher is a language teacher. Language learning occurs as a shared responsibility among teachers and across various contexts, making it more authentic and collaborative. Besides contextualised language learning, there is also the explicit language learning. These two facets support or lead to learning and developing conceptual understandings when learners are able to access information either through teacher scaffolding or self-directed learning. Learners are then able to make meaning of their own learning through the language competencies developed.
4.2. Learning through language: Learners' languages can be supported by translanguaging strategies. Teachers can help students make meaning, access content, and promote cognitive growth.Translanguaging activates prior knowledge embedded in a different language, whilst affirming cultural identity.(Bonnie)
4.3. Learning about language: At school, students and parents are invited to share home and family language texts.These activities help build early metalinguistic skills to support the development of other languages.(Literacy) Electronic, live and paper texts in all modes offer new opportunities and challenges to students to engage in learning.Schools ensure that resources reflect the diverse cultural backgrounds of local and global communities. (Multiliteracies) Critical literacy enables students to become active and reflective members of learning communities. Reflection on the power of language to convey perspectives supports the development of intercultural understanding. (Critical literacy) (Bonnie)
5. N - Need to know; E - excited about; W -worries/concerns; S - stance moving forward...