Integrating Edublogs into an online COM 101 community college course for adult learners
by Makayla Owens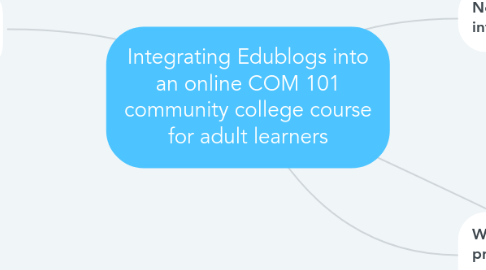 1. Need for strong social interaction in online courses
1.1. Online learners can experience feelings of isolation, resulting in lower retention, motivation, and engagement (Paloff & Pratt, 2010)
1.2. Online learning communities can help engage students through social interaction and collaboration
1.3. Online learning communities consist of social interaction, learning content, and learner-centered technology
2. Web 2.0 blogging technology provides a platform for social and collaborative content sharing
2.1. Edublogs used by COM 101 students for interacting with and constructing knowledge with peers
2.2. "Who Am I?" activity where students introduce themselves through written text and a video presentation
2.3. Students share their personal and professional goals, understanding of communication, and expectations
3. Designing an online environment that meets the needs of adult learners
3.1. Adult learning theories of andragogy and constructivism
3.2. Adults bring unique experiences and knowledge that the use to construct new knowledge individually and socially (Paily, 2013).
3.3. Adults are motivated by learning that is relevant to their goals and experiences (Cercone, 2008).
3.4. Adults need social interaction, collaboration, and feedback from others (Cercone, 2008)
3.5. Adult learners learn in different ways (kinesthetic, visual, auditory). Content should be in text, graphics, videos, audio, etc.
4. References Cercone, K. (2008). Characteristics of adult learners with implications for online learning design. AACE Journal, 16(2), 137-159. Retrieved from chrome-extension://bjfhmglciegochdpefhhlphglcehbmek/content/web/viewer.html?file=file%3A%2F%2F%2FC%3A%2FUsers%2FNINJA%2FDownloads%2Farticle_24286%2520(2).pdf Paily, M. U. (2013). Creating constructivist learning environment: Role of "web 2.0" technology. International Forum of Teaching and Studies, 9(1). Retrieved from https://www.questia.com/read/1P3-2958066361/creating-constructivist-learning-environment-role Pallof, R. M., & Pratt, K. (2010). Collaboration in the online environment: Collaboration basics. Collaborating Online: Learning Together in Community, 32, 3-18. Retrieved from file:///C:/Users/NINJA/Downloads/(Palloff%20&%20Pratt)%20Collaboration%20in%20the%20Online%20environment.pdf