Improving Recovery for Sexual Assault Patients through Trauma-Informed Care
by Meghan Jamieson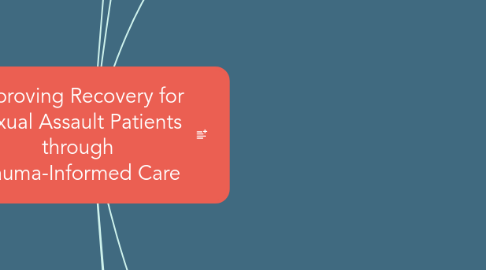 1. Background and Rationale
1.1. Rationale
1.1.1. Which problems and issues are to be explored?
1.1.2. Which problems and issues are to be explored?
1.2. Research
1.2.1. Summary of key debates and developments in the field
2. Research Question
2.1. Population
2.1.1. Sexual Assault victims presenting to the E.D. for SAEK by SANE
2.2. Intervention
2.2.1. Providing Trauma-Informed Care Practice Tools as per EVAWI framework
2.3. Comparison
2.3.1. Current Practice at HHS
2.4. Outcome
2.4.1. Improved Recovery through a decrease of PTSD symptoms
2.5. Time Interval
2.5.1. Measure with outlined took ar 1 week, 1 month, 6 month
2.6. Question:
2.6.1. Does the implementation of trauma-informed care practices improve the recovery by the female sexual assault victims through measurement of the severity of PTSD experienced at 1 week, 1moth and 6moths compared to current practice?
3. Research Methodology
3.1. Research Design
3.1.1. Prospective cause-experimental before-and-after study VS Prospecitive Controlled (Non-randomized) before-and-after study (pre and post test?)
3.1.1.1. Before intervention measurement using standardized PTSD tool stated with Current Practice
3.1.1.1.1. Implementing practice change using the framework of EVAWI (Intervention)
3.1.1.1.2. No Change in Practice (Comparison)
3.2. Sampling
3.2.1. WHO
3.2.1.1. Population-based, prospective review of ______ of all SA/DV victims that present to ED at any HHS site for care by the SANE nurse and/or legal involvement either at time of hospital presentation or after collection of SAEK
3.2.1.1.1. Inclusion criteria
3.2.1.1.2. Exclusion criteria
3.2.1.1.3. Variables/Demographics info gathered/examined
3.2.2. WHERE?
3.2.2.1. Hamilton Health Sciences, Hamilton ON
3.2.2.1.1. Adult: victims over the age of 18 presenting to Juravinski Hospital or Hamilton General
3.2.2.1.2. Child/Adolescent: Under the age of 18 years old typically present to McMaster Children's Hospital (if under age of 13 they MUST go to MCH for care- CAAP physician required to do the SAEK with the SANE) developmen
3.2.2.1.3. Child: Under the age of 13 years old MUST receive treatment at McMaster Children's Hospital; CAAP physician required to do the SAEK with the SANE
3.2.3. WHAT
3.2.3.1. PTSD screening tool to measure pre and post intervention; using T.I.C. way of practice
3.2.4. WHEN
3.2.5. HOW
3.3. Strengths
3.4. Limitations
3.5. Theoretical Resousoures to be drawn on
3.5.1. The research methods appropriate for the proposed research
3.5.2. The research approach (theoretical framework)
3.5.3. A discussion of advantages as well as limits of particular approaches and methods
3.6. Sample
4. Bibliography
5. Hypotheses
6. Appendix