MALWARE
by IMG gulane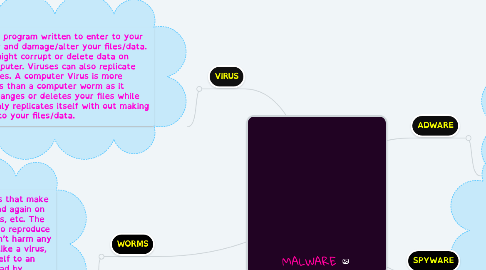 1. Spyware is a type of program that is installed with or without your permission on your personal computers to collect information about users, their computer or browsing habits tracks each and everything that you do without your knowledge and send it to remote user. It also can download other malicious programs from internet and install it on the computer.
2. A Trojan horse is not a virus. It is a destructive program that looks as a genuine application. Unlike viruses, Trojan horses do not replicate themselves but they can be just as destructive. Trojans also open a backdoor entry to your computer which gives malicious users/programs access to your system, allowing confidential and personal information to be theft.
3. TROJAN
4. ADWARE
4.1. Generically adware is a software application in which advertising banners are displayed while any program is running. Adware can automatically get downloaded to your system while browsing any website and can be viewed through pop-up windows or through a bar that appears on a computer screen automatically. Adwares are used by companies for marketing purpose.
5. SPYWARE
6. VIRUS
6.1. Virus is a program written to enter to your computer and damage/alter your files/data. A virus might corrupt or delete data on your computer. Viruses can also replicate themselves. A computer Virus is more dangerous than a computer worm as it makes changes or deletes your files while worms only replicates itself with out making changes to your files/data.
7. WORMS
7.1. Worms are malicious programs that make copies of themselves again and again on the local drive, network shares, etc. The only purpose of the worm is to reproduce itself again and again. It doesn't harm any data/file on the computer. Unlike a virus, it does not need to attach itself to an existing program. Worms spread by exploiting vulnerabilities in operating systems