An inside look at the Indie Industry
by Justin Huerta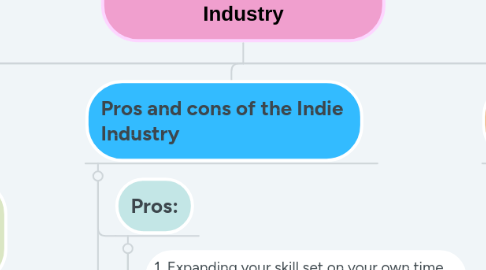 1. What is Indie?
1.1. Is short for independent, not belonging to a publisher or any kind or large company.
2. What does going Indie look like for Computer animation?
2.1. Many animated short films are considered Indie due to being made by independent creators/students.
2.1.1. 1. Great Examples of this are short films made by Gobelins students, CalArts students, and by Ringling College of art and Design students. One got really popular called "In a heartbeat." It was by two Ringling students, and ended up being featured on CGmeetup.
2.2. Animations that you create can be picked up by bigger companies.
2.2.1. 1. For Example, Bao was picked up by Pixar from Youtube. It was created by Domee Shi, and Pixar noticed it, bought it, and then put it out as a Pixar short.
2.3. You can also do freelance work as a computer animation artist, working with game designers to create animations or do small projects for content sharing sites.
2.3.1. 1. Ct Crystler is a Computer Animator and Concept Artist that did a lot of fanart of Avatar the Last Airbender and Legend of Korra, and went onto doing a lot of concept work on the Dragon Prince which is by the same creators of Avatar the Last Airbender.
2.4. Working in the Animation industry is hard, but going indie is harder. What is a success or a failure?
2.4.1. 1. The father of animation himself, Walt Disney started out as an indie Company. Originally named the "Disney brothers", Walt Disney and Roy O. Disney did work in their Uncle's garage in Los Angeles. They produced some shorts for Alice Comedies, and after some disagreements went on to making independent work for Universal pictures. He then debuted Steamboat Willie in New York, which shot the company into massive fame.
2.4.2. 2. There are many failures when it comes to independent content creators, to where it becomes internet memes. Donkey Ollie is an example of an animation failure. It is extremely easy to make a bad animated feature.
3. Pros and cons of the Indie Industry
3.1. Pros:
3.1.1. 1. Expanding your skill set on your own time, can give you experience and help build your credibility for later on. It would give you great portfolio pieces to show to developers later on.
3.1.2. 2. Going Indie could give you creative freedom. You'd be able to create content to how you want it. No contracts, no publishers telling you what you want to do.
3.1.3. 3. You'd work on your own schedule. No pressure to get a project out in a specific deadline. You could take your time to make what you'd think is an amazing game.
3.2. Cons:
3.2.1. 1. Since there are no deadlines, projects may take longer to push content out but at the same time consumers may not be interested or invested by the time the project releases.
3.2.2. 2. You may have to use your own budget, therefore your project may not be as good, or in the style/platform you initially envisioned.
3.2.3. 3. You may not get a lot of promotion out into the mainstream, since there is no advertising team made by publishers. You would have to do it yourself or hire a small team that you can afford.
4. What does going Indie look like for the Gaming Industry?
4.1. You could stick to more Niche Games, like RPG story games, first player fantasy games, interactive shooters. Games that the mainstream does not make.
4.1.1. 1. An example Life Simulator like Paralives made by Alex Masse. It is intended to compete with The Sims, but with more freedom to build and expand. The appeal of this game has more weather, pets, vehicles, things that don't usually come in the Sims games for free.
4.2. There are affordable Platforms for you to use to get started. It would help you understand coding and would help you build your skills. It's a program that amateurs can use to help them build their skills.
4.2.1. 1. A good example is Unreal, which Epic Games uses for free. It has templates for you to start off with, or start from scratch to help you build your game.
4.2.2. 2. Using a 2d platform is also more cost-effective than 3d platform, because 2d models are easier, time-safe, and simple to use to make a game. These will be more common.
5. Successes in the Indie gaming industry does not happen often, while it is more common now; it is still rare. A lot of games that may seem bad could become a trending thing, and sometimes the really good games become complete flops.
5.1. 1. An example of a success is Behemoth started on Newgrounds which is a website for animation. They made art and clips, and eventually made a good amount of games on Newgrounds, which where Java-Based games that included simple and easy coding. Their first game Alien Hominid which was not popular at first, but then came onto console in 2004. They then inspired many other games, and got the funding to make castle crashes which is an extremely popular game.
5.2. 2. Failing in the Indie Industry means that the game falls off and no one hears about it. A huge flop that was heard about was No Man's Sky that was made by an Indie developer. They promised a truly open world game, that had a lot of content, a lot of multiplayer content but could not deliver. Not only were the graphics not up to par, the game was very buggy and it became a joke in the gaming industry. Now No Man's Sky is a decent game, but because of the failure in the initial loss, they cannot come back from it.