EVALUATION
by Elizabeth De La Cruz Cruz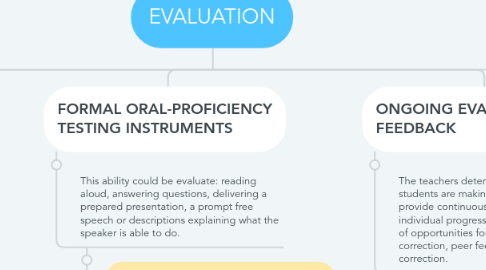 1. FORMAL ORAL-PROFICIENCY TESTING INSTRUMENTS
1.1. This ability could be evaluate: reading aloud, answering questions, delivering a prepared presentation, a prompt free speech or descriptions explaining what the speaker is able to do.
1.1.1. • TOEFL IBT SPEAKING • INTERNATIONAL ENGLISH LANGUAGE TESTING SYSTEM (IELTS) • VERSANT • INTERANGENCY LANGUAGE ROUNDTABLE (ILR) ORAL PROFICIENCY INTERVIEW (OPI) AND RATING SCALE • AMERICAN COUNCIL ON THE TEACHING OF FOREING LANGUAGE (ACTFL) PROFICIENCY INTERVIEW AND ACTFL PROFICIENCY GUIDELINES • MORLEY'S SPEECH INTELLIGIBILITY/COMMUNICABILITY INDEX • UCLA TEST OF ORAL PROFICIENCY (TOP) FOR INTERNATIONAL TEACHING ASSISTANTS
1.1.1.1. All these tests include a section to evaluate the speaking level. They could be online, phone or face to face.
2. CLASSROOM TESTING
2.1. Classroom tests focused on the material that has been taught and are therefore used to indicate the student's progress and achievement.
2.1.1. TESTS OF PERCEPCION
2.1.1.1. They can be recorded in advance or read aloud during the test by the teacher.
2.1.1.1.1. TESTS OF PRODUCTION
3. ONGOING EVALUATION WITH FEEDBACK
3.1. The teachers determinate the progress students are making. The teacher should provide continuous informal feedback on individual progress. This may take the form of opportunities for self-monitoring and correction, peer feedback, or teacher correction.
3.1.1. SELF-MONITORING AND CORRECTION
3.1.1.1. Self-monitoring has always played a central role in pronunciation teaching, and most language teachers believe that their stedents must first be able to recognize that they are making mistakes before they can correct them.
3.1.1.1.1. PEER FEEDBACK
4. DIAGNOSTIC EVALUATION
4.1. It is the teacher's method of setting or adjusting curricular objetives for a specific population of students and of determining individual needs.
4.1.1. DIAGNOSING PERCEPTION
4.1.1.1. It is a test of listening discrimination.
4.1.1.1.1. CONSONAT-VOWEL DISCRIMINATION