ENVIRONMENTAL IMPACT ASSESSMENT (EIA)
by Christina Choi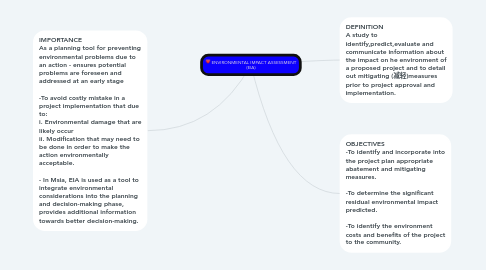 1. DEFINITION A study to identify,predict,evaluate and communicate information about the impact on he environment of a proposed project and to detail out mitigating (减轻)measures prior to project approval and implementation.
2. OBJECTIVES -To identify and incorporate into the project plan appropriate abatement and mitigating measures. -To determine the significant residual environmental impact predicted. -To identify the environment costs and benefits of the project to the community.
3. IMPORTANCE As a planning tool for preventing environmental problems due to an action - ensures potential problems are foreseen and addressed at an early stage -To avoid costly mistake in a project implementation that due to: i. Environmental damage that are likely occur ii. Modification that may need to be done in order to make the action environmentally acceptable. - In Msia, EIA is used as a tool to integrate environmental considerations into the planning and decision-making phase, provides additional information towards better decision-making.