M.A.I.N Long Term Causes of WW1
by
Caroline Ella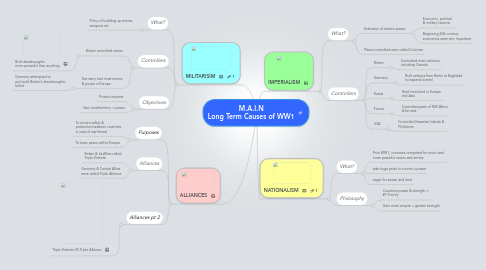 5.0
stars -
2
reviews range from
0
to
5
M.A.I.N Long Term Causes of WW1
This is just a demo map that you can delete right away, if you feel like it...
ALLIANCES
Purposes
To ensure safety & protection between countries in case of war/threat
To keep peace within Europe
Alliances
Britain & its Allies called Triple Entente
Germany & Central Allies were called Triple Alliance
Alliances pt 2
Triple Entente VS Triple Alliance
What?
Policy of building up armies. weapons etc
Controllers
Britain controlled navies, Built dreadnoughts more powerful than anything
Germany had most armies & power in Europe, Germany attempted to out build Britain's dreadnoughts: failed
Objectives
Protect empires
Gain land/territory = power
IMPERIALISM
What?
Extension of nations power, Economic, political & military reasons, Beginning 20th century economics were very important
Places controlled were called Colonies
Controllers
Britain, Controlled most colonies; including Canada
Germany, Built railways from Berlin to Baghdad to expand control
Russia, Held most land in Europe and Asia
France, Controlled parts of NW Africa & far east
USA, Controlled Hawaiian Islands & Phillipines
What?
Prior WW1, countries competed for more land. more powerful navies and armies
take huge pride in country's power
eager for power and land
Philosophy
Countries power & strength = #1 Priority
Gain more empire = greater strength