ADDIE
by S Bailey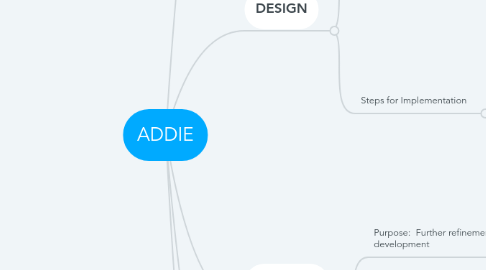 1. ANALYZE
1.1. Purpose: Information gathering stage collecting data about training needs
1.1.1. Why is training needed?
1.1.2. Who needs training?
1.2. Steps for Implementation
1.2.1. Complete a course questionnaire to gather required information.
1.2.1.1. Who needs the training?
1.2.1.2. Why is training required?
1.2.1.3. What needs to be learned?
1.2.1.4. When will the training occur?
1.2.1.5. Where will training sessions be located?
1.2.1.6. How will the training be delivered? How long should training last?
2. DESIGN
2.1. Purpose: Create an initial outline of the course
2.1.1. Course description
2.1.2. Course learning outcomes
2.1.3. Module topics
2.1.4. Assessments
2.1.5. Activities
2.1.6. Content
2.2. Steps for Implementation
2.2.1. Write the course description
2.2.2. Write course learning outcomes
2.2.3. Complete a course mapping document
2.2.3.1. Modules
2.2.3.2. Module learning objectives
2.2.3.3. Assessments
2.2.3.4. Activities
2.2.3.5. Content
3. DEVELOP
3.1. Purpose: Further refinement and course development
3.2. Steps for Implementation
3.2.1. Create assessments
3.2.2. Create activities
3.2.3. Develop content
4. IMPLEMENT
4.1. Purpose: The course goes live allowing users access to the course
4.2. Steps for Implementation
4.2.1. Prior to implementation, review all content, activities, and assessments
4.2.2. Verify all of the links are live
4.2.3. Publish the course on the LMS
4.2.4. Request user feedback at the end of the course
5. EVALUATE
5.1. Purpose: Assessment of the course including user experience and verifying that learning outcomes of the course were met
5.2. Steps for Implementation
5.2.1. Compile and analyze assessment data
5.2.2. Collect user feedback
5.2.3. Self-reflection
5.2.4. Make revisions to the course as required