WHY SHOULD AN ESSAY WRITER CONSIDER AUDIENCE WHILE WRITING?
by Henry Cooper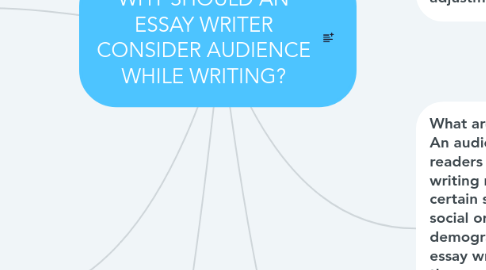 1. When talking to someone, we try to adjust our speech to effectively communicate our message. Many writers do not make the same adjustments.
1.1. An essay writer should make sure to communicate clearly to his audience in writing.
2. What are the Audience? An audience refers to a group of readers who read different writing materials. They can share certain subject preferences, social or political values, and demographic characteristics. An essay writer needs to consider the needs and expectations of his audience. It should be done to convey specific information, argument, or claim.
3. Types of Audiences The audience can be a group of similar or different people. They are divided into two categories. Academic – It may include your teacher, class, or college mates. Non-academic – It may include the publisher, other writers, your friends, and family, etc.
4. Writing for Audience An essay writer begins his essay writing after knowing his audience. It enables him to select or reject the specific details. Similarly, different types of audiences, like different writing styles or formats. For example, readers of law and political thought do not want to read rhyming poetry.
5. Details to Consider Thinking about your audience is an important concept to consider while writing. Thus, an essay writer should consider the following expectations of the audience. What types of sources will a writer expect you to include? Primary or secondary? Outdated or current? Sources from journals or the internet? Will they expect the writer to use personal experience as evidence? Is it possible for them to understand technical writing and lengthy details? Will they expect a particular format? Will the essay includes a table of contents, a reference list, title page, headings, or subheadings? How is the audience going to process the information? How will they understand the exact meaning by accessing critical ideas in the text?
6. How to Appeal the Audience? The following points can help an essay writer to appeal to the audience. It begins with the choice of topic. An impressive title will give an idea about the real issue or concern. The audience can get influence with the kind of facts being used to justify or convince. Lastly, a writer can appeal to the audience about how he presents himself while writing. It will include the use of format, writing styles, etc.