Shared Account Management Plans
by Laura Turianski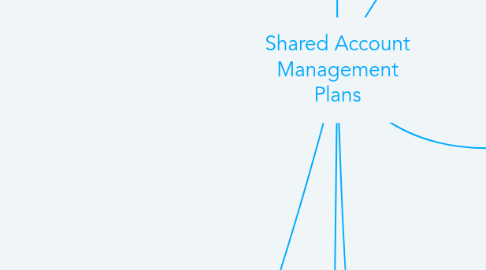 1. QUALIFICATION CONSIDERATIONS
1.1. If we lost this account, how much would we worry about filling the revenue gap?
1.1.1. Recommendation: Consider SAM if account is over 30 hours
1.2. Does this account like to experiment with test new solutions?
1.3. Will the client build credibility or create favorable industry buzz?
1.4. How much potential is there to expand the account?
1.5. How many different tactics are being regularly managed?
2. KEY POINTS TO COMMUNICATE TO ALL INVOLVED AMs FOR ALL PLANS
2.1. Map out all customer stakeholders, noting all of the following:
2.1.1. Title
2.1.2. Role in decision-making process
2.1.3. Frequency of contact
2.1.4. Personal preferences or sensitivities
2.2. Client Goals
2.2.1. Financial health
2.2.2. Current initiatives
2.2.3. Owners for short, mid and long-term account goals
2.2.4. Future initiatives discussed
2.3. Pain Points
2.3.1. Anticipated problems
2.4. Opportunities
2.4.1. Proposals presented
2.4.1.1. Proposals won
2.4.1.2. Proposals lost
2.4.2. Potential future opportunities
3. SHARED ACCOUNT MANAGEMENT PLAN 1 (LEAD/SUPPORT MODEL)
3.1. Plan Objectives
3.1.1. Increase training opportunities for a junior account manager
3.1.2. Decrease time demands of lead account manager
3.1.3. Reduce company vulnerability
3.1.4. Build pod cohesion
3.2. Division of Responsibilities
3.2.1. Lead Account Manager
3.2.1.1. Strategy
3.2.1.2. Ownership of Tactic Implementation
3.2.1.3. Delegation of Tasks to Support AM
3.2.1.4. Leading Majority of Meetings
3.2.2. Supporting Account Manager
3.2.2.1. Ownership of Specific Tasks
3.2.2.2. Reporting
3.2.2.3. Communicating with Client on Task Status
3.3. Meeting Expectations
3.3.1. Weekly Internal Check-In Meetings to assign and follow up on individual tasks
3.3.2. Lead AM would be present for all client meetings, supporting AM brought in as needed
3.3.3. Lead AM would be responsible for strategy meetings
4. OVERALL GOALS
4.1. Enhance client experience
4.2. Leverage staff strengths
4.3. Build pod cohesion
4.4. Reduce company vulnerability
4.5. Provide more opportunities for training and brainstorming
5. SHARED ACCOUNT MANAGEMENT PLAN 2 (MUTUAL SUPPORT MODEL)
5.1. Plan Objectives
5.1.1. Bring more visibility to team
5.1.2. Reduce company vulnerability
5.1.3. Leverage staff strengths
5.1.4. Build pod cohesion
5.1.5. Increase opportunities for brainstorming
5.2. Division of Responsibilities
5.2.1. Account Manager 1
5.2.1.1. Owns Strategy of Particular Tactics, tactic assignments could vary between accounts, but would typically split the following segments betweeen AMs
5.2.1.1.1. Persona Research
5.2.1.1.2. SEO
5.2.1.1.3. Content
5.2.1.1.4. Advertising
5.2.1.1.5. CRO
5.2.1.1.6. Email
5.2.1.2. Implementation of all tasks under owned tactics
5.2.1.3. Leads meetings on owned tactics
5.2.2. Account Manager 2
5.2.2.1. Owns Strategy of Particular Tactics, tactic assignments could vary between accounts, but would typically split the following segments betweeen AMs
5.2.2.1.1. Persona Research
5.2.2.1.2. SEO
5.2.2.1.3. Content
5.2.2.1.4. Advertising
5.2.2.1.5. CRO
5.2.2.1.6. Email
5.2.2.2. Implementation of all tasks under owned tactics
5.2.2.3. Leads meetings on owned tactics
5.3. Meeting Expectations
5.3.1. Weekly Internal Check-In Meetings (30 minutes or less) to:
5.3.1.1. Report issues
5.3.1.2. Discuss tasks in progress
5.3.1.3. Share client impressions
5.3.2. Client meetings may be held separately or jointly, but AMs only need to be present for owned tactics
5.3.3. Both AMs should be present for quarterly and annual strategy meetings
6. SHARED ACCOUNT MANAGEMENT PLAN 3 (HIERARCHY MODEL)
6.1. Plan Objectives
6.1.1. Bring more visibility to team
6.1.2. Reduce company vulnerability
6.1.3. Leverage staff strengths
6.1.4. Increase opportunities for brainstorming
6.1.5. Build pod cohesion
6.1.6. Decrease time demands on Senior Account Manager
6.2. Division of Responsibilities
6.2.1. Senior Account Manager
6.2.1.1. Supporting Account Manager 1
6.2.1.1.1. Owns Strategy of Particular Tactics, tactic assignments could vary between accounts, but would typically split the following segments betweeen AMs
6.2.1.2. Supporting Account Manager 2
6.2.1.2.1. Owns Strategy of Particular Tactics, tactic assignments could vary between accounts, but would typically split the following segments betweeen AMs
6.3. Meeting Expectations
6.3.1. Weekly Internal Check-In Meetings (30 minutes or less) to:
6.3.1.1. Report issues
6.3.1.2. Discuss tasks in progress
6.3.1.3. Share client impressions
6.3.2. Client meetings may be held separately or jointly, but AMs only need to be present for owned tactics
6.3.3. Senior and Supporting AMs should be present for quarterly and annual strategy meetings