Why games are important in learning process?/Oyunlar neden öğrenme sürecinde önemlidir?
by Duygu Karakuş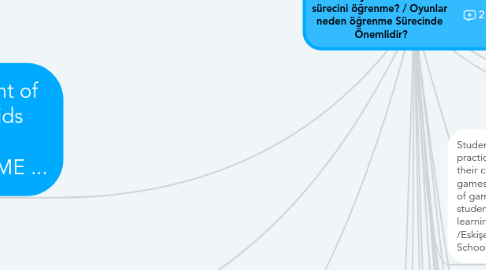 1. They develop their personality and sense of loyalty.Nurdan Bilgin Ateş /Madran İlkokulu
2. Games make students more enthusiastic and engaged in the lesson. (Huriye Uluöz/TOKİ Malazgirt Primary School)
3. games make learning easier
4. Games provide an enjoyable learning for children.
5. games take students' attention easily. (Duygu Karakuş/Cengiz Han Primary School)
6. Game is an interlanguage between children. (Yasemin TÖREN / Kızılırmak Primary School)
7. Games increase motivation. Alyona Kelleci, Kepez ilkokulu
8. Games help students to Learn better.
9. How we can't get delight of meal without tasting ; kids can't get pleasure of knowledge without GAME ...
10. Learning by doing is the best way of learning. We can teach English with Games in an enjoyable way. ( Özlem Akgün/ Mengen Cumhuriyet Primary School)
11. games are a natural way of learning ( Esra Ertaş / Cide Atatürk Primary School )
12. You can make your classroom fun with games
13. You can make your classroom fun with games. F. Sibel ÖZ SARAÇOĞLU
14. You can make your classroom fun with games (F. Sibel ÖZ SARAÇOĞLU)
15. Play is an important part of the learning process Childish games of 'let's pretend'help children to rehearse for the real world and give them an opportunity to try out situations in order to learn to cope with them.Other games help to develop conceptual awareness,physical co-ordination,creativity,and social skills.(Hatice Kadıoğlu/KTSO Primary School)
16. playing games is funny, and it makes learning funnier, and permanent
16.1. They are easily motivated and can learn in a funny way with the help of games. Besides, it is a good way to focus their attention and actively immerse them in language teaching.
17. Games take attetion of children more easily and they will enjoy the learning process actively
17.1. Games help students to collaborate , communicate , interact and work together. Elif KOYUNCU/ Demirci Primary School
18. Games provide language practice and make students eager to communicate.(MUJDE SUNGERICLIOGLU /Firuzkoy ilkokulu)
19. Students get chance to enjoy, practice and communicate with their classmates by means of games.So, we should enable lots of games in the classes for students to enhance their learnings. Begüm BALABAN /Eskişehir İlhan Ünügür Primary School
19.1. With a game children can learn collaboration and teamwork, and critical thinking. (Nimet ELVER Sofular Primary School)
19.1.1. Oyunlar, öğrencileri İngilizce öğrenmeye daha istekli hale getirir . Çünkü onlar eğlencelidir. Öğrenciler oyun oynarken dili daha kolay öğreniyorlar. (Nahide Elçin Yıldız-Aziz Günden İlköğretim Okulu)
19.1.1.1. It makes the child more active, patient and disciplined.(Anıl Akgün Yörük-Abdullah Bozbağ Primary School Giresun)
20. For kids playing games is the first step and the best to get answers to real life problems both individually and collaboratively (Elif Dilek Oğuzhan-Milas Atatürk Primary School)
21. games encourage students to communicate easily and improve their problem skills .Saadet Bulut/Kükürtlü Ticaret ve Sanayi Odası Primary School Osmangazi/Bursa
22. Games play important role in teaching by making students to collaborate, communicate, interact and work in teams. Students also learn and memorize better through the process of playing a game. Kıymet Gezerler / Özbey İlkokulu
23. Games motivates students.They feel better in their learning environment. Games lower their level of stress.They are the best way to make them revise the language. Semiha ERUYANIK/Gazi Mahmut Primary School
24. Children have fun during the game.Since they are not afraid of making mistakes, they relax while playing and naturally get a lot of experience from this process. The child recognizes his / her environment and himself through the game, acquires new knowledge and skills, establishes relationships with his friends. Through the roles he takes in the game, he learns to look at the world through the window of others, establish a cause-effect relationship and express his own ideas. The game is an important tool of learning.(Naciye BÜTÜN Sazlıpınar Primary School)
25. Students can learn subjects easily with games ( Özlem ŞENER CIRIK - MEHMET AKER PRİMARY SCHOOL )