THE PAST AND PRESENT TENSES
by Leonora Stajku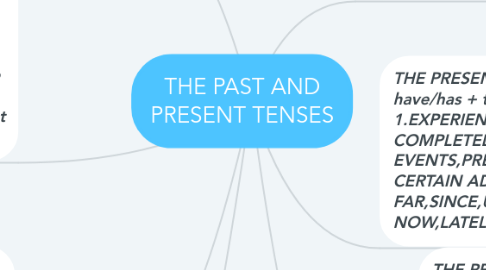 1. PRESENT SIMPLE. We use the base form of the verb, and add -s for the third person singular.USES: 1.To express habits 2.General truths 3.For repeated actions 4.To give instructions or directions 5.To express fixed arrangements, present or future 6.To express future time, after some conjunctions: after, when, before, as soon as, until.
1.1. PRESENT SIMPLE EXAMPLES 1.She eats only fish 2.Water freezes at zero degrees 3.We catch the bus every morning 4.You take the No.6 bus to train station. 5.His mother arrives tomorrw. 6.He will see you before he leaves.
2. THE PRESENT PERFECT is formed by have/has + the past participle. USES: 1.EXPERIENCES. 2.RECENT COMPLETED EVENTS. 3.PAST EVENTS,PRESENT RESULTS 4.WITH CERTAIN ADVERBIALS:SO FAR,SINCE,UP TO NOW,LATELY,ALREADY,YET,JUST.
2.1. THE PRESENT PERFECT EXAMPLES 1.We haven't met before, have we? 2.Niki and John have just come back from a week in Spain. 3.She's broken her arm in two places. (Her arm is still broken now.) 4.I haven't seen my brother for 2 years.
3. THE PAST SIMPLE is usually formed by adding d, ed, or ied to the base form of the verb and irregular verb.We use the past simple to talk about definite time in the past (often we specify when something happened, e.g. yesterday, three weeks ago, last year, when I was young)
3.1. THE PAST SIMPLE EXAMPLES:When they were young,they hated meat.Did you watch that film yesterday?.They did not collect postcards.
4. THE PAST CONTINUOUS is used to speak about an action that occurred in the past and continued for a certain period of time. Is formed by combining the past tense of to be (for example: was/were) with the verb's present participle (-ing word).
4.1. THE PAST CONTINUOUS EXAMPLES:I was washing my hair when you phoned. Was he studying all night again? They were not studying English last week during vacation.
5. THE PAST PERFECT SIMPLE. Subject + had + past participle = past perfect tense.We use this tense to talk about an event that happened before another event in the past. 'JUST' is used with the past perfect to refer to an event that was only a short time earlier than before now.
5.1. THE PAST PERFECT SIMPLE EXAMPLES:The plane had left by the time I got to the airport.Had the girl learned the new words before she texted her friend? He hadn't left when she arrived.I had just gone outside when it started to rain.
6. THE PRESENT PERFECT CONTINUOUS is made up of two elements: the present perfect of the verb 'to be' (have/has been), and the present participle of the main verb (base+ing). We use present perfect continuous: 1.ACTIONS THAT STARTED IN THE PAST AND CONTINUE IN THE PRESENT 2.ACTIONS THAT HAVE JUST FINISHED, BUT WE ARE INTERESTED IN THE RESULTS.
6.1. 1.She has been waiting for you all day (= and she's still waiting now). 2.Someone's been eating my chips (= half of them have gone).
7. THE PAST PERFECT CONTINUOUS is composed of two elements - the past perfect of the verb to be (=had been) + the present participle (base+ing).We use this tense to show that something started in the past and continued up until another time in the past.
7.1. THE PAST PERFECT CONTINUOUS EXAMPLES: He had been drinking milk out the carton when Mom walked into the kitchen.How long had he been watching TV?. They hadn't been speaking to each other for years.